Space dreams are made of these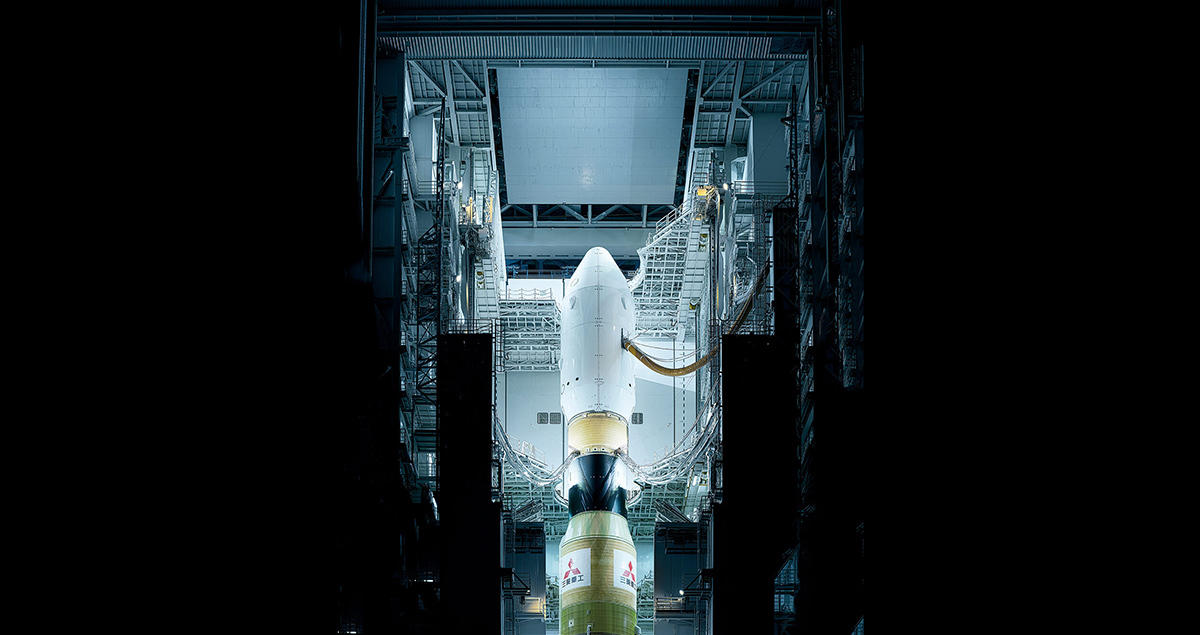 Japan is staking a place among the major players in commercial satellite launch services. In 2020, the country will unveil its first entirely new satellite launch system in a quarter of a century: the H3 liquid-propellant rocket, which will be able to carry at least 35% more payload at a significantly lower cost than its predecessor.
Japan wants to double its space industry to 1.2 trillion yen a year by the 2030s. That means taking on more commercial satellite launch orders. Meanwhile, Japan needs to maintain its capability to independently access space. Among its reasons are to ensure launch capabilities for government satellites and independent research, as well as to collaborate with the international program.
The H3 is just the latest move in Japan's rise within the global space industry. In June 2018, the Hayabusa2 spacecraft completed a successful rendezvous with the asteroid Ryugu in its mission bring home samples from the diamond-shaped rock between Earth and Mars – a journey of almost 7 billion kilometers.
Like all space journeys, the Hayabusa2 mission started with a rocket — the H-IIA, crafted in collaboration between Japan Aerospace Exploration Agency (JAXA) and Mitsubishi Heavy Industries (MHI). It has been the mainstay of Japanese rocket launches for almost two decades.
"It would be great if the H3 gained the kind of popularity that Japanese cars have."Masashi OkadaH3 project team manager, JAXA

Reaching for the sky

In the 1960s, Japan used American technology to begin developing its own liquid-fuel rockets, culminating in the first flights of its homemade H-II vehicle in the mid-1990s. By 1994, every rocket component was sourced domestically. Reliability issues took several more years to iron out, yet by the turn of the century Japan had birthed its first major success.

The updated H-II, known as H-IIA, made its first trip in 2001. Another rocket, H-IIB, which can carry Japan's cargo transfer spacecraft to the International Space Station, debuted a few years later. Since then, the H-IIA and H-IIB have had a launch success rate of more than 97%, one of the most remarkable safety records in the space industry.

Now, Japanese and global demands of space exploration require a new vehicle system, says Masashi Okada, JAXA's H3 project team manager. The goal for the latest rocket offering is nothing less than a revolution in space exploration.

"We want to change the way that space is used, and we're working on a system that will make this a reality," Okada says. "Japan's dream is to provide safe, ready access to space for everybody."

To realize that dream, JAXA and its long-time private-sector partner MHI have zeroed in on the issue that still makes space exploration and transport prohibitive – cost.

"In order to raise international competitiveness, first of all, it is necessary to have flexibility, high reliability and low price. Those are the basics of space transportation today," he says.

The H3 will have 20% fewer components than the 1 million parts used for the H-IIA rocket. This should help make inspections and assembly faster and slash costs to approximately half the price of the predecessor.
A deep connection
True to the Japanese value of Kaizen (continuous improvement), JAXA and MHI have steadily innovated throughout the years to make the cost reductions possible. The design incorporates materials and components readily available in the market (especially for aircraft and automobiles). Unique parts are 3D printed. MHI has also worked to integrate multiple functions for parts and electronic equipment to reduce their overall number and to simplify assembly through the use of automated tools.
The rocket is developing, Okada says, "in a very Japanese, detailed manner."
Equally Japanese is JAXA's collaboration with MHI, a manufacturing giant founded in 1884, with engineering prowess especially in aviation and shipping. As JAXA focused over the years on research and development, MHI has stepped up from being mostly a manufacturing contractor to being both an astute partner at the technology development stage and a strategist behind the commercial aspect.
"There are usually multiple solutions to any problem, and those solutions depend on your values. We know that with MHI we share the same values and have the same goals," says Okada.
Working with the same prime contractor over many decades has helped Japan's space agency craft a consistent approach to technology development, which is based on the nation's strategic objectives. It has also helped to keep the work process lean, as would be required at any good commercial entity.
For example, with the H3, while JAXA focuses on the overall system and technology unique to space, MHI works on the rocket body and other more widely used components. Researchers from both sides are collaborating on development of the LE-9 engines.
"The ability to combine state and commercial interests, and rely on each other during the many tough moments space presents us, is what accounts for the success of the JAXA and MHI partnership," according to Okada.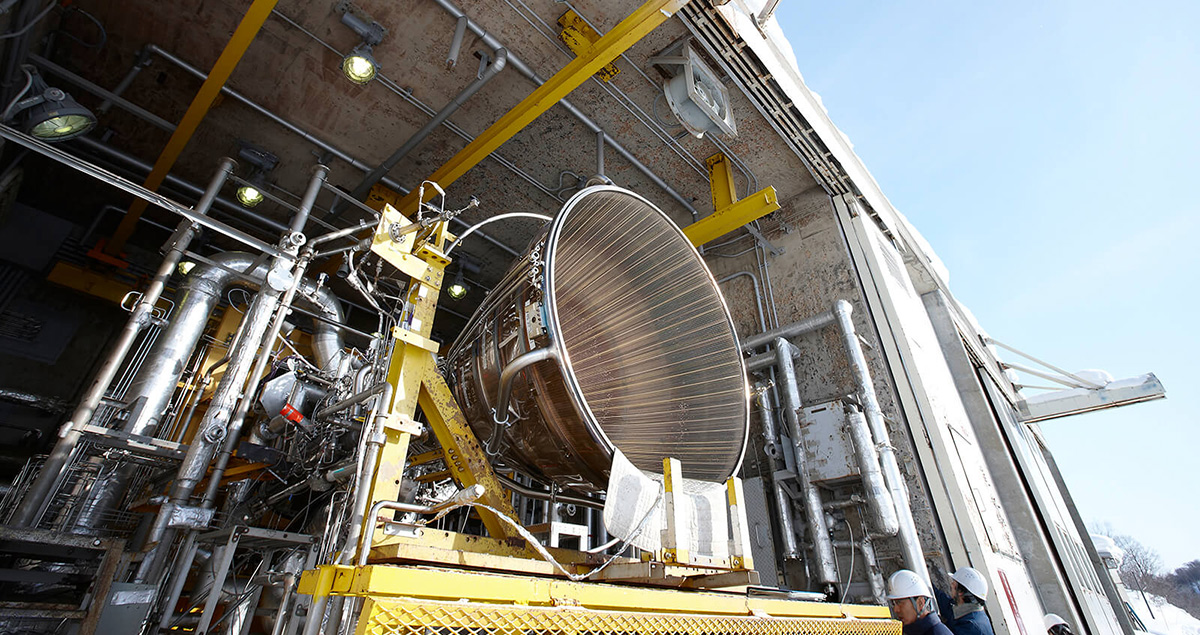 Sound and speed
Both JAXA and MHI are attuned to the demands of their customers. One demand was to lower the cost. Another was to make the launch drastically less noisy.
A rocket takeoff is equivalent to a hundred large passenger jets, creating vibrations that can damage the payload, as well as the rocket. To minimize that impact, the Japanese team has engaged in noise testing and numerical acoustic analysis by installing water suppression systems and sound-absorbing walls on a model launch site.
The team aims to make the H3 "the world's quietest launch."
MHI is reworking the inspection protocols from scratch to speed up turnaround, potentially allowing Japan to spend as little as 30 days between rocket launches. That could enable the country to send at least 10 vehicles a year into space from its single site at Tanegashima – a level comparable with those of competitors, which have multiple sites.
For now, Okada remains cautious, saying, "We aim for at least six H3 launches a year, with more than three of those for commercial satellites."
"The ability to combine state and commercial interests, and rely on each other during the many tough moments space presents us, is what accounts for the success of the JAXA and MHI partnership"Masashi OkadaH3 project team manager, JAXA
JAXA and MHI aim to make the H3 a leader in space, for customers in Japan and around the world, through a focus on flexibility, reliability and great value. In fact, the project sounds a lot like another Japanese success story.
"It would be great," Okada says, "if the H3 gained the kind of popularity that Japanese cars have."
Learn how other partnerships are building on dreams that move the world forward.
The H3 program is on schedule for its maiden voyage in 2020. Learn more about the H3, its predecessors, and launch services in Japan.