Dreams of continuing the family business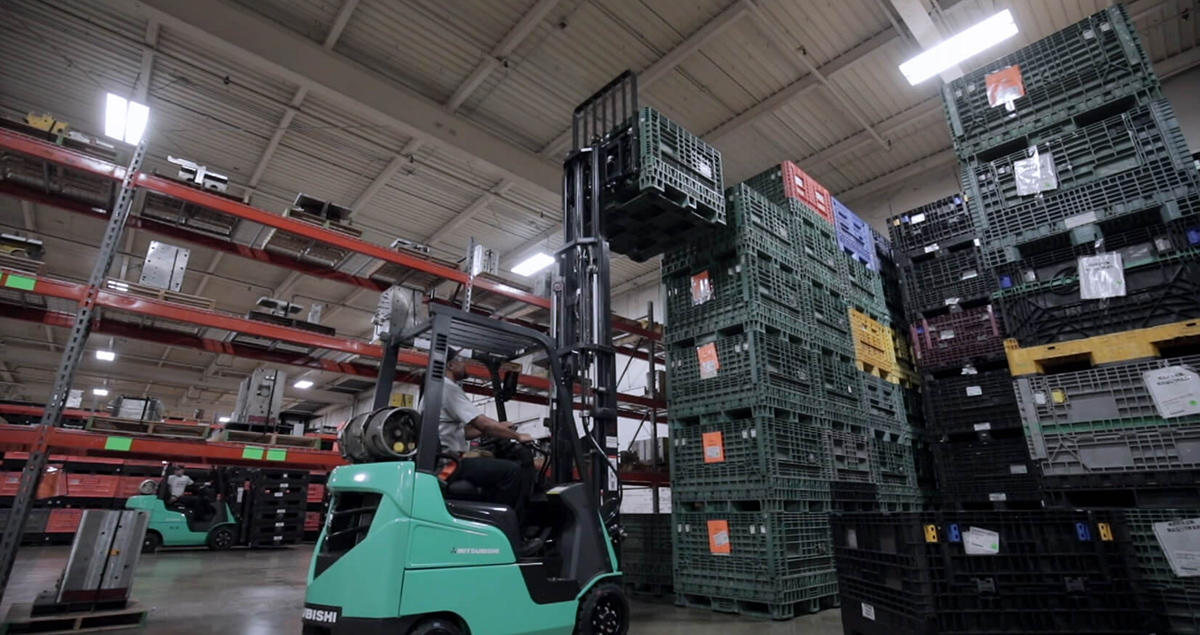 The current economic boom has manufacturers scurrying to keep up with demand. Steere Enterprises, which makes advanced air induction systems for global automakers, runs its factories hard, 24 hours a day, seven days a week. Its management examines every detail to ensure processes run smoothly and continuously.
While manufacturers typically fine-tune their production lines to reduce costs and eliminate down time, Steere Enterprises even took the forklifts that ferry materials around its 300,000-square-foot plant into consideration.
"In automotive, we are always looking how to take costs out of the system, from how we design, to manufacturing and ultimately delivering the part. As we look into the future, we will expect this from our forklifts. How can we transport our products more efficiently throughout our operation and reduce waste, downtime and overall costs?" said Brock Steere, co-president of Steere Enterprises and a grandson of the company's founder. Moving products between manufacturing stages in the factories means loading pallets and buzzing them around on forklift trucks. The forklifts need to operate safely, reliably and quickly. When a forklift goes down, disruptions reverberate up and down the production lines.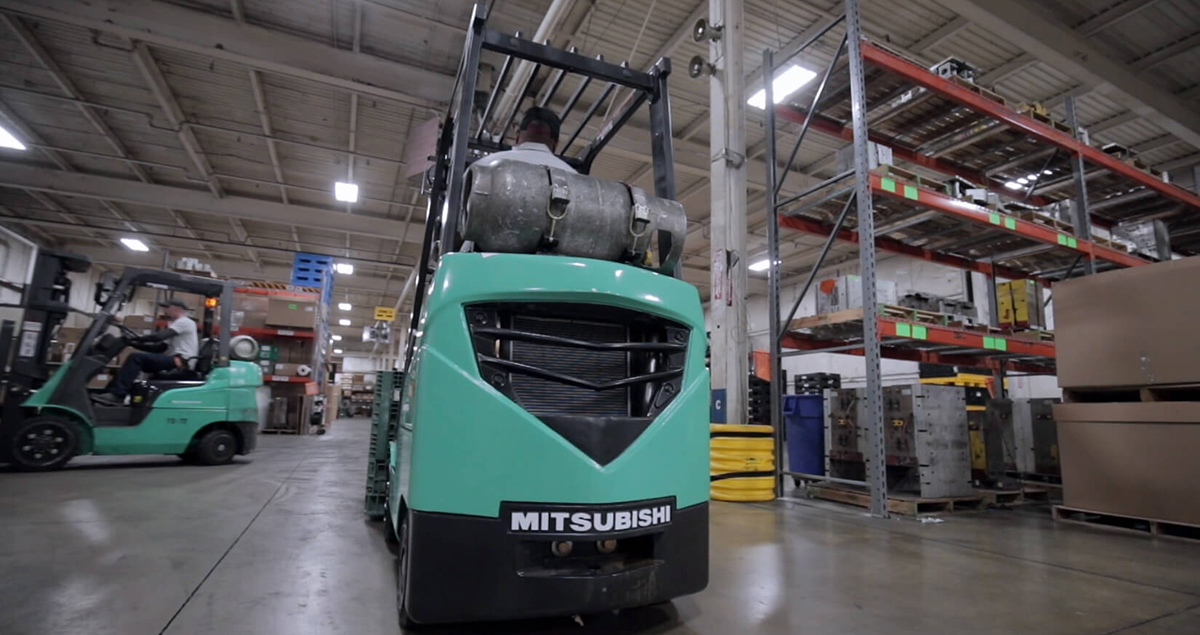 Smooth operator
Looking for ways to increase material handling efficiency, Steere Enterprises turned to Mitsubishi Caterpillar Forklift America Inc. (MCFA, now Mitsubishi Logisnext Americas), three years ago. "This was a big eye opener for us as we have seen a significant reduction in maintenance costs and better quality with the trucks," Mr. Steere said. "Our factory floor has gone through several different suppliers of trucks over the years and this is one of the best ones we ever had."
In the automotive supplier business, the assembly line is always going. Steere Enterprises must ensure its products get to customers ahead of time and in top condition. The company trusts its lift trucks to enable the organization to meet its production timelines. Lost time with the trucks means losing time getting parts out the door, and that is unacceptable to customers.
"With the 24/7 operation, to have all of our forklifts going at all times is really important for us. Even just one forklift down can really be a burden," he said.
In addition to price and service, Steere Enterprises also wanted trucks that its employees found easy to handle. One of the challenges at Steere Enterprises' facilities is the tight space in which the forklifts have to operate. "Maneuverability was a factor in choosing the Mitsubishi model, which gets in and out of tight corners nimbly," said Daniel Lloyd, floor operator at Steere Enterprises.
"Our forklift drivers are the ultimate test to how a product is doing. We want to ensure we give them the best products and tools to do their jobs every day," Mr. Steere said. "Whatever we do in our business we are thinking longer term, and that applies to the forklifts we use."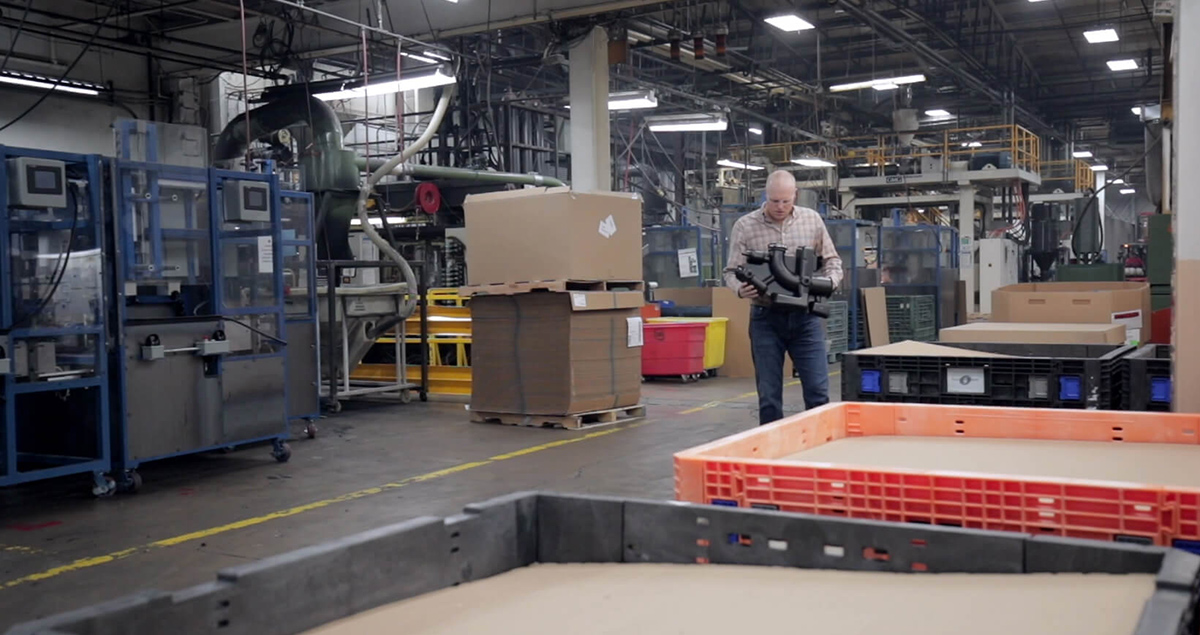 Innovating in tight spaces
Steere Enterprises is always looking for new and innovative ways to develop and that passion is contagious, said Derek Hill of Fallsway Equipment Co., which distributes MCFA forklifts and works directly with customers.
"Our team enjoys being part of Steere's success and we are eager to provide them with reliable options when it comes to their material handling needs," Mr. Hill said.
Building the relationship with Steere Enterprises means really understanding their business and the specific challenges they face. "If they have a problem with one of their machines, we want to be there to communicate together to come up with a solution," said Mr. Hill. That's why Fallsway Equipment runs an emergency technician service.
What's more, if a customer has a unique material-handling challenge, Fallsway will work with them to figure out a solution.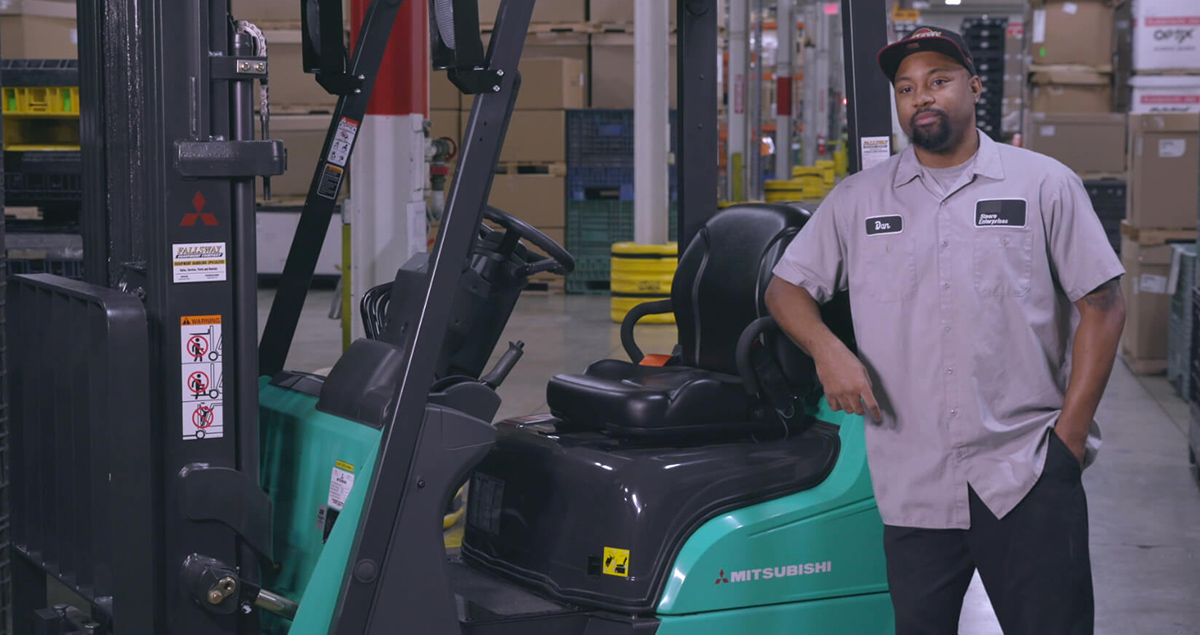 The future of forklift driving
Changes in the automotive industry are also driving the development of self-driving forklifts. MCFA and its parent company, Mitsubishi Heavy Industries (MHI) are investing in Automated Guided Vehicle technology, which uses software and sensor-based guidance systems to provide safe, quick and reliable service.
"The interest in automation has grown exponentially in the past two years, across all industries," Mr. Hill said.
For some companies, much of the return on investment in AGVs comes from a reduction in labor costs. Automation can help companies manage a shortage of qualified lift truck operators. Training and retention of operators also is costly. However, most AGVs are best suited to repetitive tasks, because they rely on dedicated, obstruction-free paths and uniform loads.
Even before fully automated vehicles come online, companies like Steere Enterprises can benefit from technology in other ways. Real-time management of forklift fleet operations is of high interest to clients because they want to make faster decisions as workloads change, Fallsway Equipment said.
Steere Enterprises also sees changes coming to the automotive industry and to its own business, particularly with research into changing the mainstream combustion engine and going electric. "We have designed and developed many game-changing products around connection points," Mr. Steere said. "These products can be introduced to other markets that require advanced connection points and also made available to other automotive suppliers."
Just as Steere Enterprises is a reliable partner to its customers, it depends on reliable partners like MCFA to keep its operations running smoothly. "We want to work with companies that have like-minded goals and will be with us for the long term," Mr. Steere said.
Learn how other partnerships are building on dreams that move the world forward.
Mitsubishi Caterpillar Forklift America (now Mitsubishi Logisnext Americas) is part of the Mitsubishi Logisnext family, a global leader in material handling equipment.