Why offshore wind creates so many jobs
Offshore wind farms are popular for many reasons, mostly related to their size.
Their large scale means they can generate vast amounts of electricity relatively consistently when compared to other renewables. This scale also makes them popular with investors looking to commit large sums of capital.
And, most crucially, their scale requires substantial investment in a local supply chain and supporting infrastructure. This means investing in ports and creating jobs in those communities so that there are workers available with the skills to build and maintain the wind farms.
It is the sheer size of offshore wind turbines that means their installation inevitably has a positive impact on local communities and jobs.
For example, MHI Vestas' V164 9.5 MW offshore wind turbine stands at 195 meters from sea to blade tip – twice as high as the Statue of Liberty. Being able to manufacture components and assemble them close to their final location is often the most economically efficient option when there is a thriving market with multiple projects taking place at once.
Skilled craftsmen
The UK is currently the world's largest offshore wind market, with more than 8 GW of turbines operational and plans for 30 GW of capacity to be installed by 2030.
While offshore wind makes up little more than a third of the UK's total wind power capacity, it accounts for more than half of the wind industry jobs in the country.
These roles vary from shipping and foundations specialists in Scotland and northern England to skilled craftsmen making the world's largest turbine blades at MHI Vestas' facility on the Isle of Wight.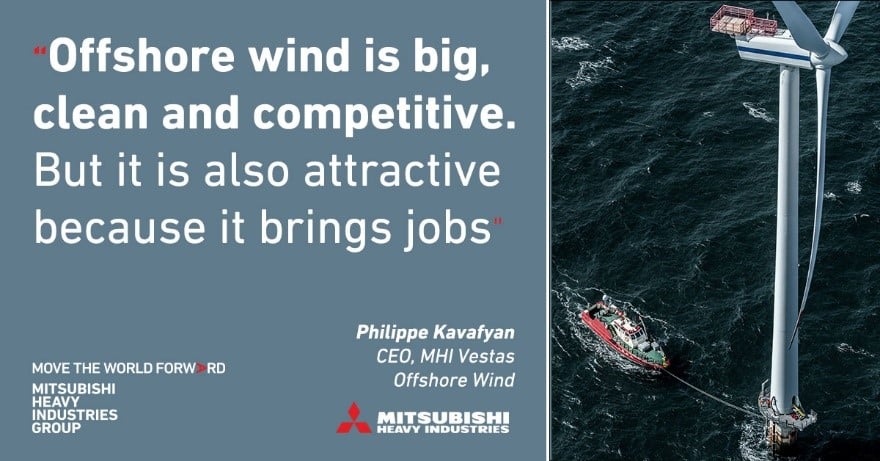 Speaking at the Ceraweek 2019 energy event in Texas, United States, Philippe Kavafyan, Chief Executive of MHI Vestas Offshore Wind, said there were several key reasons why offshore wind was spreading from Europe to countries including the US, Taiwan, Vietnam and Japan.
"Offshore wind is big, clean and competitive," said Kavafyan.
"But it is also attractive because it brings jobs. Offshore wind is associated with the development of a local supply chain at local ports. And because these turbines have an operational life of 25 years and will need to be maintained, it creates new jobs that will be around for a long time."
Political backing
While offshore wind offers the prospect of local job creation, it also requires significant political commitment to encourage investment in the local supply chain that creates these jobs.
"What is needed in our industry is visibility of projects," said Kavafyan.
"We can't just stop and go, as has happened with the US onshore wind boom-and-bust cycle. Everything we do is five years ahead, so we need 10-year visibility."
Using the nascent US offshore wind industry as an example, Christer Af Geijerstam, Equinor's president of US Offshore Wind – also speaking at Ceraweek – said visibility was needed in large volumes as well as timescales to invest in local supply chains.
"This industry needs to see a pipeline of projects for suppliers to invest," he said.
"Just 1 GW of planned capacity will not make much of an industry. But now in the US we are seeing states such as New York and Massachusetts with ongoing plans and requests for proposals. You're starting to see a market that will be 10 GW+ and all the suppliers are coming on board. This will mean they start manufacturing products locally, because if you have the market, better to make locally than ship from Europe."
Jobs boost
According to one recent study, just five average-size offshore wind farms being built off the eastern coast of the US could create as many as 25,000 jobs.
US states from Massachusetts to Virginia are now pumping hundreds of millions of dollars into port investment in the hope of catching the winds of job creation from the offshore industry.
This public investment is understandable: another study predicts the best-placed port on the east coast could corner the market and generate up to 500,000 jobs.
With that kind of prize on offer, it is easy to see why offshore wind's attraction comes from more than merely supplying large quantities of clean, emission-free electricity.