Meet the engineer behind Singapore's Changi Airport Skytrain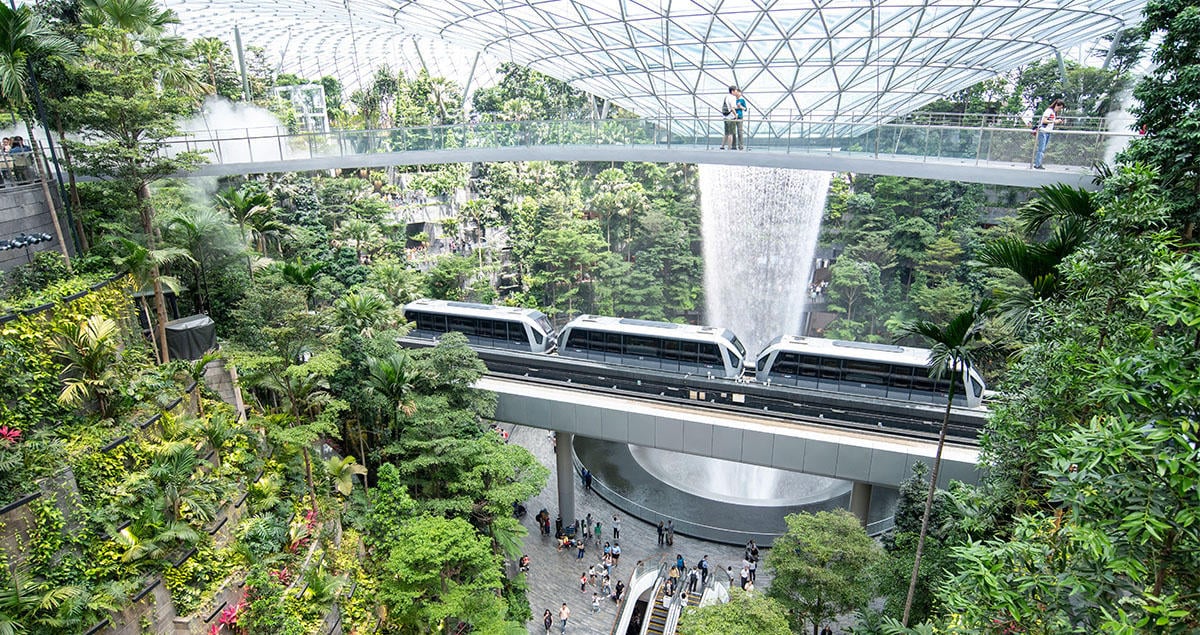 Walking among tropical palms, waterfalls, and along a tree-canopy bridge reminds engineer Makoto Kashiwa of his early career spent helping build a town in the jungle. Now a project manager at the Investment & Service Department of Mitsubishi Heavy Industries (MHI) Group, the rainforest that surrounds him is inside Jewel, a 10-story leisure and retail complex that sets Singapore's Changi Airport apart from its competitors.
A record 65 million travelers passed through the airport last year, with many carried by the purpose-built automated people mover (APM) system that Kashiwa and his team designed and installed. Known as the Skytrain, the system predates the Jewel complex and has been blended into the indoor forest and iconic Jewel Rain Vortex, linking shops and entertainment with the airport's terminals. The APM is one of the factors that helped Changi win the World's Best Airport title for the seventh consecutive year in 2019.
Here, Kashiwa talks about his work:
How has the Skytrain improved Changi Airport?
I'm so proud of the fact that the Skytrain keeps passengers happy by making it quicker, safer, and more comfortable to move around the airport.
To handle the additional visitors Jewel attracts, the Skytrain now has more APM cars, reducing congestion and making it easier for passengers to access the terminals.
We modified the system to give greater flexibility, which allows us to change the number of cars running on airside and landside routes, in response to demand.
The driverless trains have been upgraded with high-definition CCTV cameras to keep an eye on what's happening in the carriage. While these were fitted to keep passengers safe, they now also contribute to airport security.
What were the main issues you encountered when building the system and incorporating the Skytrain into Jewel?
At the beginning, the main challenge involved transferring the project from one contractor's system to our own. When MHI was awarded the Changi Airport project in 2002, Terminal 3 hadn't yet been built and a legacy system was already servicing Terminals 1 and 2.
Our challenge was to replace the old system without disrupting existing passenger flow, while at the same time connecting the network to the new terminal, which was still under construction.
Fast-forward to 2016, and incorporating the Skytrain system into the new Jewel complex required meticulous planning and close collaboration with our operation and maintenance team, airport staff and authorities. The project was built right at the heart of the airport without disrupting its day-to-day operations. Our work, as well as testing and maintenance, had to be completed at night, mostly between 2:30 am and 5:00 am, then everything was put back in place ready for the morning peak traffic.
Another technical challenge we faced involved preventing hot air entering the complex from outside. We worked with Changi Airport Group (CAG) to incorporate shutters into our signaling system, as they help keep cool air inside the complex when trains enter or depart.
Seeing the Skytrain operating fills me with immense pride. The train gives people arriving or leaving the airport a positive experience and has become an iconic part of Jewel, which we didn't foresee happening but are very pleased about.
Our success in Singapore has opened doors, enabling MHI to perform similar system replacements, as well as operations and maintenance projects, with other airport clients.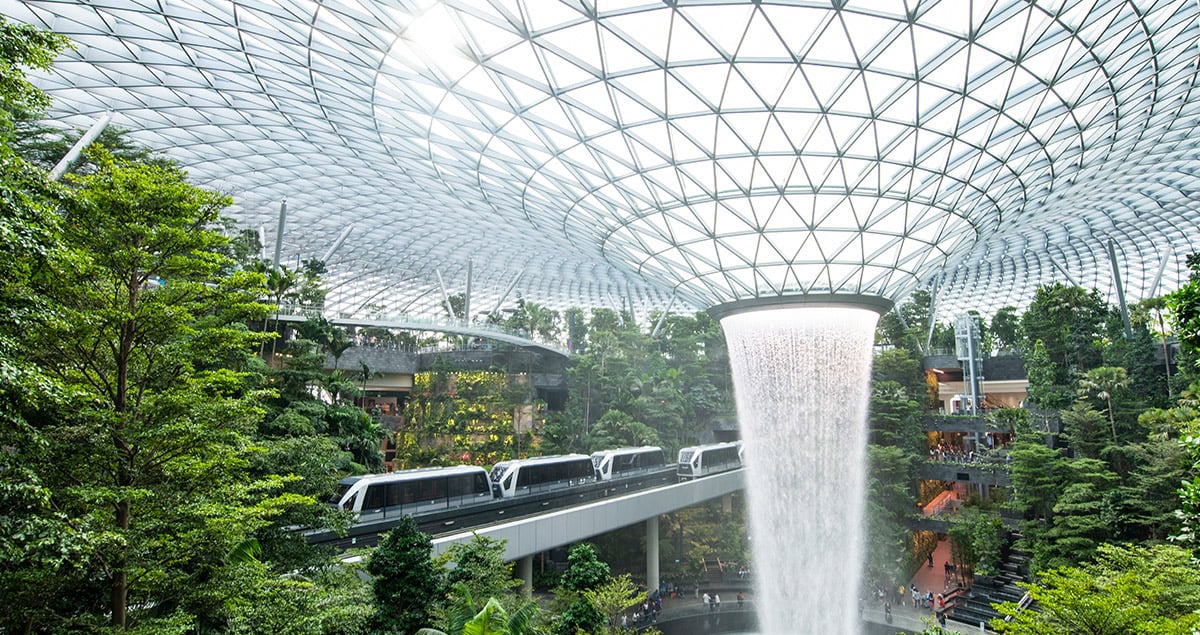 How has your experience and career to date helped with this project?
I joined MHI in 1995 as a mechanical engineer, starting with paper machine engineering before moving on to the field of transportation systems.
My 20 or more years in transport engineering began in Singapore when I created the alignment and facility design for the Sengkang-Punggol Light Rail Transit (LRT). Back then, the Punggol area was a patch of jungle. That's what made the project so exciting, because I actually drew the line on the map. The LRT was instrumental in transforming Punggol into the bustling residential district it is today.
I went on to complete other APM projects at international airports in Miami and Orlando, before returning to Singapore to work on Changi Airport's APM system.
Now, having helped integrate trains into a man-made rainforest inside Jewel, I am part of a Changi Airport team that operates and maintains the Skytrain system.
Does your work on the Skytrain end with the opening of Jewel?
Our involvement with the project doesn't end with the completion and handover of the system - there is still a long journey ahead. It's the beginning of a new phase where we help maintain the Skytrain and ensure it continues to operate smoothly and reliably.
The experience our team gained during construction of the Skytrain enables us to continue adding value during operation, maintenance, upgrades, and after-sales servicing. It is all part of a 20-year contract to look after these aspects of the Skytrain system, which MHI signed with CAG back in 2008.
We continually look for new ways to improve and boost the Skytrain's operational performance, in cooperation with the client. For example, digital sensors installed on the APM cars can remotely monitor each car's status, so the system can analyze data to predict malfunctions before they occur.
This is an exciting area of our work. By proactively monitoring and maintaining the Skytrain's systems, we ensure airport passengers continue to ride in comfort with minimum disruption to their journey.
Southeast Asia looks set to be at the center of an aviation boom. What role do you see Changi Airport playing in this?
Singapore has long been a favorite destination for regional air travelers and a major stopover hub for long-haul flights between places like Australia, Europe and America. Many of the economies of Southeast Asia are thriving and regional commutes are becoming much more common.
Prime Minister Lee Hsien Loong described Jewel as one of the "instantly recognizable icons of Singapore". It adds to Changi's attraction as a go-to destination, both for overseas passengers and local visitors, and we are proud to have played a part in this success story.
As Singapore continues to grow in importance in the coming decades, we are looking forward to continued collaboration with Changi Airport to provide systems and services that keep passengers flowing smoothly.