Turning fantasy Into reality: Checking Into the Strange hotel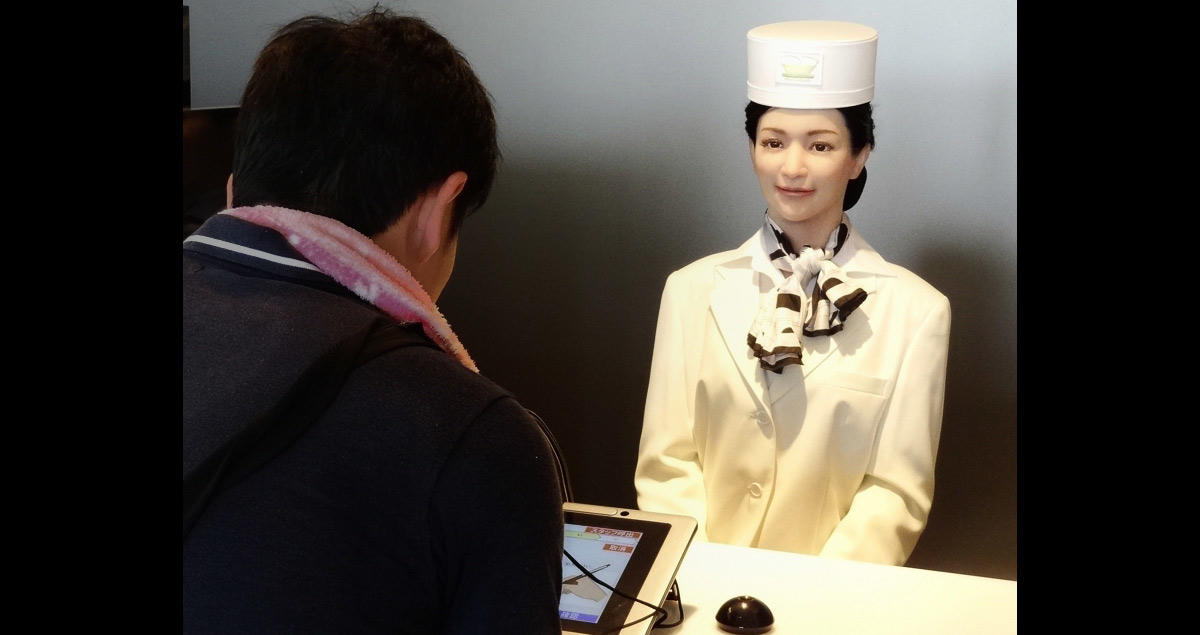 For some time Japan has been a place enthusiastic about portraying futuristic lifestyles with robots. Lifelike androids acting as receptionists were introduced at the 2005 Aichi Expo outside Nagoya, and many robotics trade shows have shown off droids for communication, housework, nursing care, and other purposes. Huis Ten Bosch is different, a European themed amusement park located in Japan's Nagasaki Prefecture, has recently opened the Robot Kingdom, an exhibit that, among other things, celebrates machines that can help out in our everyday lives. Huis Ten Bosch has also turned robots into a viable business: it features a successful hotel staffed by robots that has been open for over a year.
The Henn na Hotel (lit., Strange Hotel) opened in 2015 with robotic clerks, porters and cloakroom attendants. The motley crew features a female android and two dinosaur robots, armed with what look like very long claws and teeth, at the front desk, an industrial robot arm places checked luggage into cubbyholes, and porter bots ferry suitcases around. There are also in-room robot attendants that can retrieve information from the Internet, such as weather forecasts, and wake guests up in the morning.
Robots First
At the Henn na Hotel, most human staff members remain behind the scenes and the reduced manpower costs make the hotel cheaper than others at the theme park, an added attraction to the mechatronic workers. Beyond strange, the hotel name is a double entendre, also implying "to keep changing," according to the management. It points to the fact that the dinosaur robot started out speaking only Japanese, but now speaks four languages. Meanwhile, the 30 people employed there have been reduced to only nine because robot operations have become more efficient.
"The Henn na Hotel has the highest occupancy among the hotels at Huis Ten Bosch," says Nakano. "It dipped a bit after the Kumamoto earthquakes in April but during summer vacation when we have many family groups it's been going strong."
Far from being a one-off gimmick, the Henn na Hotel opened a second wing in March 2016, bringing its total rooms to 144. Huis Ten Bosch is now planning to open another robot hotel just outside Tokyo in Maihama, home to Tokyo Disneyland.
With a real-world hotel chain staffed by robots and increasing numbers of humanoid robots such as SoftBank's Pepper being used in real-life situations, Japan's science-fiction dreams are slowly coming true. With a growing consumer and business market for service robots, these intelligent machines are sure to change society in profound and unexpected ways.