Turning Fantasy Into Reality: A Visit to Japan's Robot Kingdom
Futurists are fond of saying that science fiction eventually becomes science fact. Precisely when that occurs, however, is never easy to pinpoint. That's especially true in Japan, where engineers are constantly conjuring the future. Countless Japanese sci-fi series from Astro Boy and Doraemon to Mobile Suit Gundam and beyond have depicted a future in which friendly robots do all kinds of jobs for people, from cooking to cleaning to dispensing advice and helping protect humankind. At a theme park in southwest Japan, robots are doing all that and more.
Huis Ten Bosch is an unlikely spot for pushing the limits of technology. It's a sprawling amusement park with hotels in Nagasaki Prefecture where traditional Dutch and other European landscapes and streetscapes are perfectly reproduced. Yet alongside tulip beds, meandering canals and slowly turning windmills, visitors are meeting robots that interact with them, carry their luggage and prepare their food.
Huis Ten Bosch recently opened an exhibit entitled "Robot Kingdom," an industrial nickname for Japan because of the high degree of automation in Japanese factories. But while the show incorporates industrial robot technology, it's really about machines that can help out in our everyday lives.
"Robot Kingdom" is the sixth exhibit in the Huis Ten Bosch "Kingdom" series, following events themed on lights, flowers, music and shows, games and health and beauty.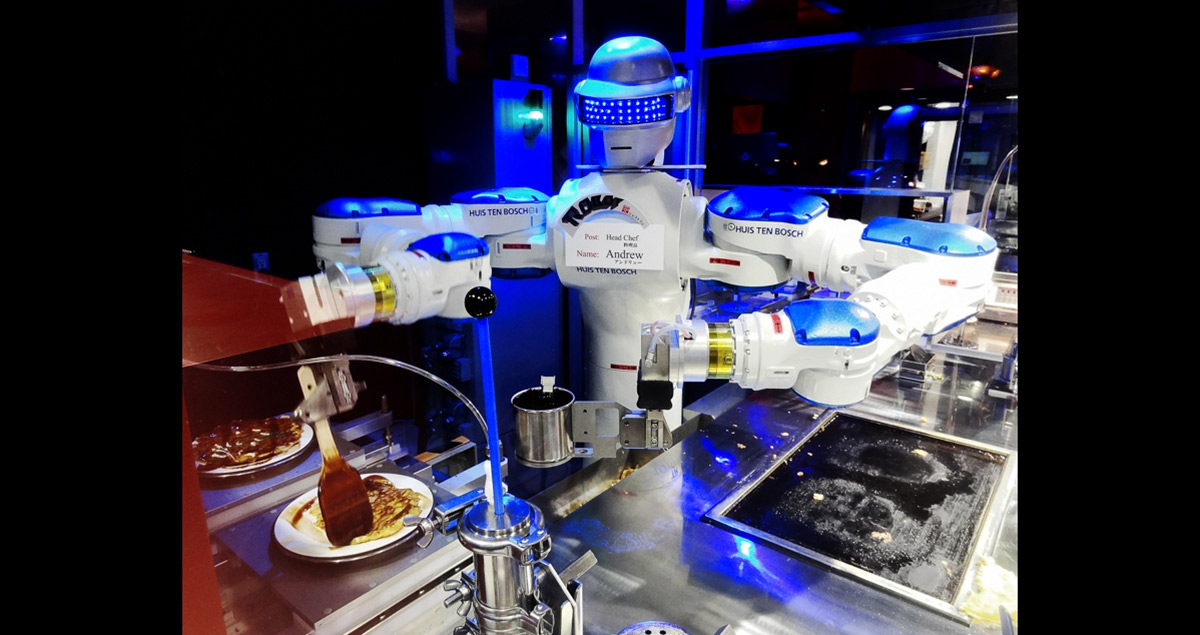 Pancakes, Robot Style
The Robot Kingdom's main attraction is a robot restaurant. The concept is a restaurant 200 years in the future staffed by robots that aspire to be human. The centerpiece here is a mechatronic chef that makes okonomiyakiJapanese savory pancakes. Dubbed Andrew and given the title of head chef, the modified Motoman robot from automation giant Yaskawa Electric has a basic humanoid form and two powerful multi-jointed arms, allowing it to fry up tasty treats with speed and precision. While chattering on in a metallic voice, it places the batter on the grill and wields two spatulas to form it into two pancakes, flipping them over when solid. After transferring the okonomiyaki to a plate, it switches out its spatulas for a brush, with which it slathers on some sauce, and a pepper mill for a generous sprinkling of aonori powdered seaweed and katsuobushi flakes. The okonomiyaki is ready to be sliced up and placed on a buffet table for customers.
In addition to Andrew, the restaurant featured humanoid robots that can prepare cocktails and ice cream served in cones. Another machine prepared chahan fried rice while Tapia robots, egg-shaped communication droids made by Tokyo's MJI, interacted with customers by offering quizzes and fortune telling. While human staff helped keep this automatic diner humming along, they seemed to play a minimal role as everyone was fixated on the machines.
"We've had many children on summer vacation and as they're already used to using tablets, they're taking to experiencing robots like ducks to water," says Huis Ten Bosch spokesperson Yuko Nakano. "We would like to expand and evolve the robot exhibition from now on by listening to what visitors are wishing to see."
The restaurant was only part of the Robot Kingdom exhibit, which included a heavy dollop of science fiction. A giant statue of a robot from the Patlabor anime and manga series stood outside the Robot Hall, which featured robots from the Gundam franchise. Apart from Gundam plastic models, dioramas and merchandise, as well as oodles of toy robots, the hall featured pint-sized humanoid bots that entertained visitors by dancing and playing soccer. In the other building nearby, kids were riding on drivable robots that engage in mock battles.