Where in the world are the hydrogen trailblazers?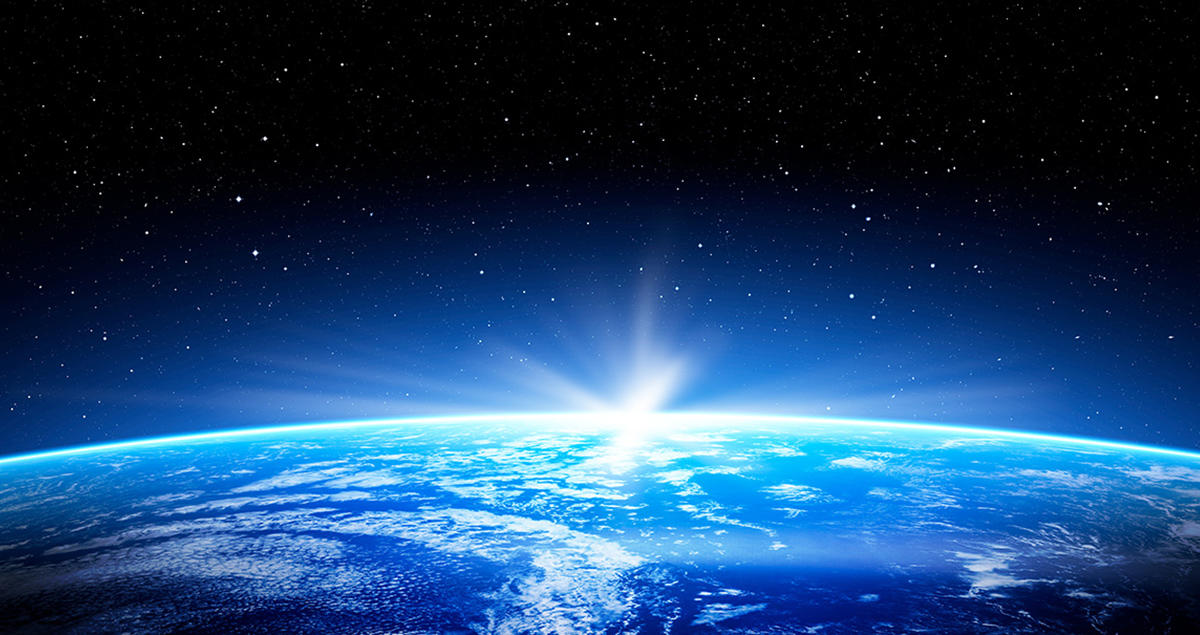 It pays to follow the money, and right now hydrogen is attracting plenty. Shares in hydrogen producers and manufacturers of fuel cells have reached their highest level in a decade.
Hydrogen's star is rising as appreciation grows of this low-emission, or even no-emission, solution to some of the biggest power challenges facing governments and energy producers. The element could help store variable power from renewables, for example, or be used to decarbonize hard-to-abate sectors such as transport and chemical production.
A combination of new technologies, new government policies and new infrastructure is rapidly emerging as countries worldwide prioritize hydrogen for their energy future and build the foundations for its widespread use. These are the nations leading the charge:
1. United States
The California Fuel Cell Partnership (CAFCP) is aiming to build a network of 1,000 hydrogen fueling stations and have one million zero-emissions fuel cell electric vehicles (FCEVs) on the state's roads by 2030.
These ambitious plans are set to extend an existing hydrogen network that already ranks as one of the biggest of its kind in the world.
"Thousands of fuel cell cars are on California roads, and drivers can refuel and travel across most of the state," says CAFCP executive director Bill Elrick. "Fuel cell buses have exceeded lifetime and performance expectations, transforming public transport opportunities. A new era of clean, carbon-free transportation is underway."
Ultimately, millions of road users are set to have access to affordable, renewable hydrogen and fuel cell vehicles, transforming the state's roads and air quality. California could provide a sustainable transport model for other U.S. states to follow.
And hydrogen should be in ready supply as part of Mitsubishi Heavy Industries (MHI) Group's plan to establish what it calls the world's biggest energy storage project. Alongside battery technologies and other clean energy storage solutions, the Advanced Clean Energy Storage project will produce hydrogen as a way of storing surplus energy from renewables, which would otherwise be lost.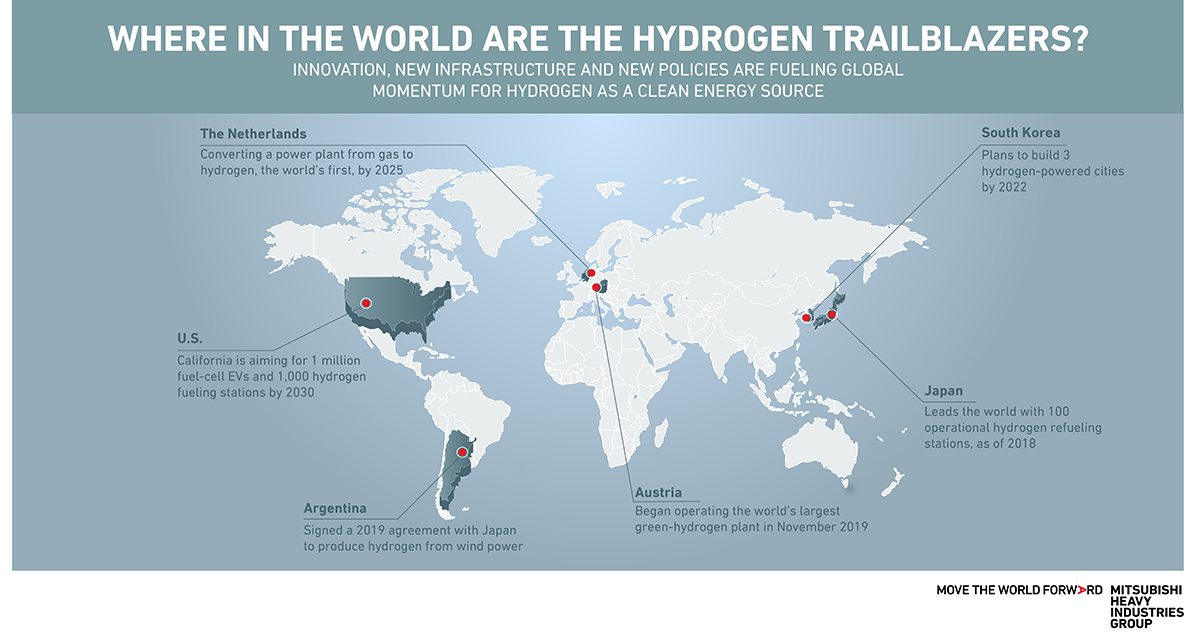 2. Argentina
The South American nation signed a 2019 agreement to work with Japan to produce hydrogen from wind power, providing a clean and reliable energy source.
Argentina has plentiful wind power resources, which can be used to produce emissions-free, green hydrogen on a large scale. The collaboration will promote investment in producing hydrogen via the electrolysis of water, using electricity from wind power.
Developing and adopting the element as a clean, safe and reliable energy source throughout Argentina rests on policymakers and energy industry players collaborating to establish a hydrogen framework. The collaboration with Japan could promote Argentina as a global sustainable energy supplier.
3. The Netherlands
The world's first hydrogen-fueled power plant is being developed in the Netherlands. Vattenfall's Magnum H2M project is converting a gas-fired plant into a gray hydrogen plant, using combined cycle gas turbines from Mitsubishi Hitachi Power Systems (MHPS).
Norwegian natural gas will be converted into hydrogen and carbon dioxide. Using carbon capture, utilization and storage technology, the carbon dioxide will be harnessed before it reaches the atmosphere, then safely stored in underground facilities off the coast of Norway.
What remains is hydrogen, which can help fuel the Magnum plant to produce electricity, with water vapor as the only byproduct.
MHPS has already successfully tested a turbine using a blend of 30% hydrogen and 70% natural gas. Vattenfall aims to have the facility running on 100% hydrogen by 2025.
The plant could serve as a testing ground for technology that could convert natural gas power plants around the world to operate with lower emissions.
4. Austria
The world's largest green-hydrogen plant became operational in Austria in November 2019. The newly constructed cutting-edge facility has a 6 MW capacity and creates hydrogen through electrolysis powered by renewable electricity.
Located at a site owned by steel manufacturer Voestalpine, the CO2-neutral plant is a testing ground for scaling up hydrogen operations to industrial level, with the potential to decarbonize "hard to abate" industries like steel, cement, and chemicals production.
Globally, the steel industry accounts for between 7-9% of all direct emissions from fossil fuels. MHI Group company Primetals Technologies is working with Voestalpine to develop a steel production process using hydrogen, which could replace the fossil fuels that currently power steelmaking and many other industries.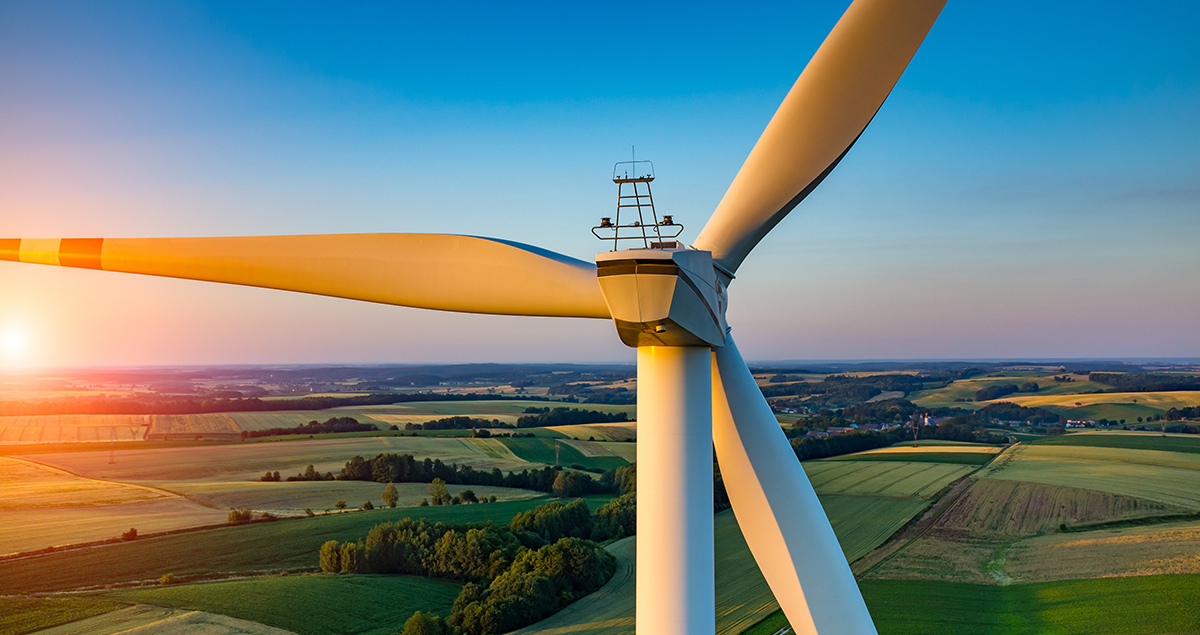 5. South Korea
The country plans to build three hydrogen-powered cities by 2022, which will use the fuel for cooling, heating, electricity, and transportation. The plan is part of a strategy to power 10% of the country's cities, towns, and regions by hydrogen by 2030, increasing to 30% a decade later.
South Korea is aiming to become the first country to create a hydrogen-powered society, and consultation is underway on exactly where the new urban centers will be built. Constructing the test cities from scratch gives developers scope to experiment with cleaner, more sustainable energy systems.
In place of fossil fuels, hydrogen will power a new-look transport system, including buses and private cars, with charging infrastructure available in bus stations and parking spaces.
South Korea's new cities could act as a testing ground for hydrogen-powered urban centers, providing a model for the world's urban planners to emulate.
6. Japan
Transitioning to a global hydrogen society depends to a large extent on policies that create incentives for hydrogen production and innovation.
The Japanese government has arguably done more than any other to raise the profile of hydrogen among global policymakers. It made hydrogen a topic for discussion when hosting the G20 summit in 2019. And since 2018, it has hosted annual Hydrogen Energy Ministerial Meetings, with energy ministers from most major world economies in attendance to formulate common guidelines under which to develop hydrogen energy.
Japan is also taking a lead in developing hydrogen infrastructure, with more than a quarter of the world's hydrogen fueling stations. The government wants to establish a network of 160 charging locations, in time for the 2020 Olympic and Paralympic Games in Tokyo.