The Inflation Reduction Act is Driving a Clean Tech Industrial Revolution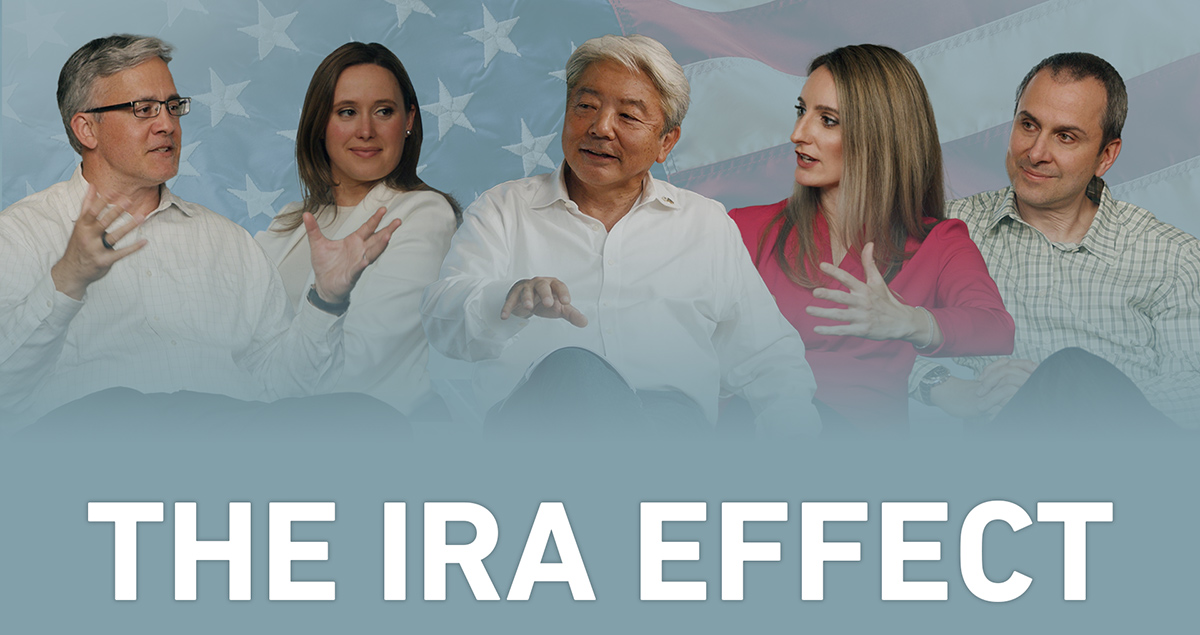 From the moment it was signed into law on August 16, 2022, the Inflation Reduction Act (IRA) was expected to accelerate decarbonization and reshape U.S. industrial policy. Almost a year later, the IRA is proving more potent than anticipated, pushing clean energy investment beyond initial predictions and making the U.S. the standard-bearer on energy transition policy.
But the impact to date is just the beginning. The landmark legislation has the potential to slingshot the economy even further toward net zero by incentivizing investment in clean energy across an enormous range of businesses in a wide swath of industries. To seize the opportunities presented by the IRA, however, companies will need a deep understanding of this complex, nuanced law's details and mechanisms.
Recently, Mitsubishi Heavy Industries America (MHI-A) convened a panel of leaders from energy, finance, industry, and academia to discuss the IRA and what it means for their businesses and industries – offering what they've learned so far, where the U.S. and the world need to go next, and what companies need to know to make the most of this era-defining law.
"The Inflation Reduction Act has changed the energy transition landscape," says Takajiro Ishikawa, President and CEO of MHIA. "Working together and sharing insights across companies and industries will move the needle to create a lower carbon future for society".
Clio Crespy, Senior Managing Director of Guggenheim Securities, agrees with this assessment in her remarks during the panel. "It's going to be a critical competitive advantage for the companies that are able to effectively navigate the regulations, the framework and the implementation," she says.
Watch: Roundtable discussion on the short- and long-term impacts of the IRA
Participants:
Takajiro Ishikawa, President and CEO, Mitsubishi Heavy Industries America
Clio Crespy, Senior Managing Director, Guggenheim Securities
Matt Crocker, Senior Vice President, Low Carbon Solutions, ExxonMobil
Dr. Ken Medlock, Senior Director of the Center for Energy Studies, Baker Institute at Rice University
Anna Wishart, Director of External Affairs, Monolith Materials
Industrial policy re-envisioned: What the IRA does
The IRA's core principle is simple: Accelerate the energy transition with incentives rather than penalties. The law directs nearly $400 billion in federal funding to clean energy efforts through a mix of tax incentives, grants, and loan guarantees. Most of the funding takes the form of tax credits designed to spur corporate investment in clean energy, transport, and manufacturing – generating financing that will enable innovation, help companies scale solutions, and drive down costs across a wide range of decarbonization technologies.
"What's brilliant about the IRA is that it's tech-neutral and performance-based," says Anna Wishart, Director of External Affairs at clean tech startup Monolith Materials. "It leaves the world open for any type of technology, even those that haven't been invented yet, as long as you can show you can reduce emissions."
The amount of clean energy funding the law provides, while impressive, understates its ultimate impact. Many of the IRA's mechanisms are designed to leverage vastly more in private investment, including opportunities for public-private partnerships and cooperation among companies – "coop-etition," as noted during the panel.
The energy transition can't be done by just one party. Collaboration and communication between all parties is key.

Takajiro Ishikawa, President & CEO, MHI-A
The IRA's tax credits provide visibility into future revenues and allow for securitization that enables further investment. "Line of sight to revenue was a stumbling block for many emerging clean technologies," says Clio Crespy, Senior Managing Director at Guggenheim Securities. "The IRA is transformational. I can't stress enough how important line of sight is in terms of being able to underwrite revenues."
The impact across companies and industries
The IRA is already having far-reaching effects, both on the volume of clean energy investment and the span of industries it touches. In fact, the law has driven much greater investment than even optimists projected when it was signed. In the IRA's first year:
Companies have announced 96 gigawatts of new clean power over the previous eight months, enough to power almost 20 million homes – about one-seventh the total number of homes in the U.S.
Companies have announced enough new U.S. battery manufacturing projects to support production of more than 10 million EVs per year – more vehicles than were manufactured in the U.S. in 2021.
The IRA's expected impact on private investment has increased between 50% and 200% from initial estimates, based on research from the Brookings Institution and Rhodium Group, with the largest jumps related to hydrogen, carbon capture, energy storage and critical minerals.
The leap in investment affects every company related to the energy transition, from legacy giants to startups. It accelerated ExxonMobil's development of its Low Carbon Solutions division, which works on carbon capture and storage, hydrogen and biofuels. "It clearly starts with good, sound, durable policy," says Matt Crocker, the group's Senior Vice President. "That has caused a broad cross-section of the industry to think about emissions reduction and the incentives to get started."
For example, ExxonMobil is among the world's largest producers of hydrogen. Encouraged by incentives from the IRA, the company is capturing the carbon from hydrogen production, then using the resulting clean hydrogen to reduce its own emissions and to help customers reduce theirs.
At the other end of the size spectrum is Lincoln, Nebraska-based Monolith Materials. The startup has a proprietary process for using renewable energy to power methane pyrolysis, which breaks captured methane into carbon and hydrogen. Monolith uses the carbon to create carbon black, a key ingredient in tires and a myriad of other products, and uses the hydrogen to create anhydrous ammonia for fertilizer.
Monolith exemplifies the benefits of revenue visibility provided by the IRA's tax credits. "Clean energy is very hard to get built as a small company," says Monolith's Wishart. "A utility might look at us and say 'You're too new. We're going to make you put down a significant amount of money upfront to securitize this wind or solar development.'" With the IRA, the startup is able to achieve the top-tier tax credit and it's working on a billion-dollar expansion that's expected to create new jobs along with new products. "The IRA makes us able to get that done that much faster," she says.
A new era of collaboration
Collaboration – within and across industries and sectors, between corporations, governments, nonprofits and academia, and around the world – can help all parties realize the IRA's promise and drive the economy toward net zero.
Larger businesses, says MHI-A's Ishikawa, can and should help clear paths for companies like Monolith. "Companies like ours that have big balance sheets can finance our own projects to show the world that this technology is workable and safe and can help decarbonize," he says. "That's a role we need to play."
Such collaborations are taking many forms to accelerate the energy transition. For example, MHI is making direct investments in a range of startups, including Monolith, bringing expertise, resources, connections, and financial clout that can help them navigate the new law's intricacies and build economies of scale. MHI is also working with ExxonMobil on carbon capture. Mitsubishi Power, a power solutions brand of MHI, is in a joint venture with Magnum Development to build the Advanced Clean Energy Storage hydrogen hub in Utah. The facility, currently under construction, is expected to nearly double worldwide clean hydrogen capacity and is financed in part by a $500 million loan from the U.S. Department of Energy.
And these new collaborations aren't limited to the United States. "The IRA has forced other countries to re-envision how they're going to approach industrial policy," says Dr. Ken Medlock, Senior Director of the Center for Energy Studies, Baker Institute at Rice University. "Joint Ventures are critical. A lot of international players are looking at how they can add value in the U.S. and partnering with U.S. entities as well."
In the U.S. and elsewhere, stakeholders are coming to the same realization about the scope, complexity and urgency of net zero. "The energy transition can't be done by just one party," says Ishikawa. "Collaboration and communication between all parties is key."
What's next for the IRA and clean energy
Will a change in political winds derail the IRA? Medlock is doubtful. "There will be noise, but it's highly unlikely it will be undone," he says. "If anything, I think there's a lot of interest on both sides of the aisle to assist the impact of the legislation rather than denigrate it."
The next big front is permitting reform. "Permitting is the big unknown with regard to how successful the law will be," Medlock says. "If you're subsidizing projects but can't permit infrastructure, it won't matter. That's on the table, and I see a very high likelihood of something being passed, which will only help to accelerate the impact of the IRA."
As companies look to reap the IRA's benefits, collaboration may be the most powerful means to navigate its complexities and make the most of short and long-term opportunities. "The energy transition is going to take contributions from everyone throughout the public and private sectors," says Ishikawa. "It takes a big, complicated policy framework to govern all those efforts. Working together will help all of us make the most of it, benefiting our businesses and creating a lower-carbon future for society."