Much of the year the island of Tanegashima, located in a remote corner of southeastern Japan, is a sleepy little place. Just as they have done for centuries, ironmongers forge the tools and implements of daily life. Farmers till the soil and cultivate red rice and sweet potatoes. Fishermen throw their nets into the sea and haul in the catch of the day. Loggerhead sea turtles return here from thousands of miles away to lay their eggs.
A few times each year the island is the recipient of great fuss and attention. All summer long, surfers from all over Japan make their way to Tanegashima to catch the great waves, while the white sands of the beaches fill up with sun worshippers. In August, the Tanegashima Gun Festival is a sight to behold, as local inhabitants turn back the clock to the 17th century and recreate the form and fashion of matchlock rifle battalions. As Japan's most significant spaceport, rocket launches are always popular events. And they have served to inspire the creation of another annual celebration, the Tanegashima Space Art Festival.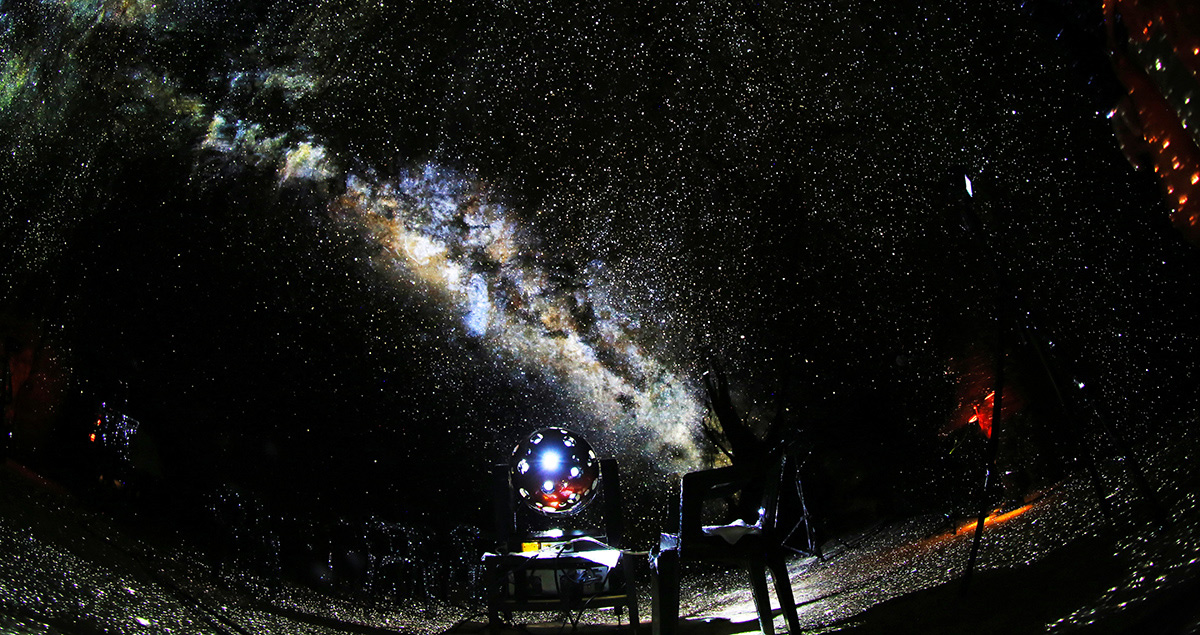 Inspiration From Above
With a population of some 33,000 souls, and the ebb and flow of visitors contingent upon periodic rocket launches and seasonal events, the Tanegashima sea- and airports veer from teeming-with-life to empty-and-abandoned. By needs they are small facilities, and recently they have become galleries curated with some peculiar approaches to "space art" that stimulate the imagination and even educate on the origins of the universe. They are the result of an idea that, several years ago, came to the mind of Hiroyuki Moriwaki, Associate Professor at Tama Art University, one of Japan's most prestigious art schools. That idea bore fruit in what is today known as the Tanegashima Space Art Festival, which is supported by both local governmental and commercial organizations, as well as Mitsubishi Heavy Industries, a company with a significant stake in Japan's space development operations.
"As an artist, I look around and see many things on this island that inspire me," Professor Moriwaki said. "The opportunity to present space, or to make people more aware of space, is the purpose of the festival, and children are a big part of it." People milling about at the Tanegashima airport waiting room are confronted by an imposing canvas creation that is imprinted with the artifacts of Tanegashima history and daily life created by participants of the 2015 festival. Travelers in the terminal gate can pass the time tracing the origins of life on planet earth, the elements of the universe, and the science of light. Those in the baggage claim area can ponder the juxtaposition of rockets in the context of familiar urban areas of Japan. "Space can be observed in many ways, and through the vision of a variety of perspectives," said Moriwaki. "That was the basis for wanting to do the Tanegashima space art festival get a bunch of artists together and let them create whatever they want."