Takasago: Home of the gas turbines at the heart of MHI and the Energy Transition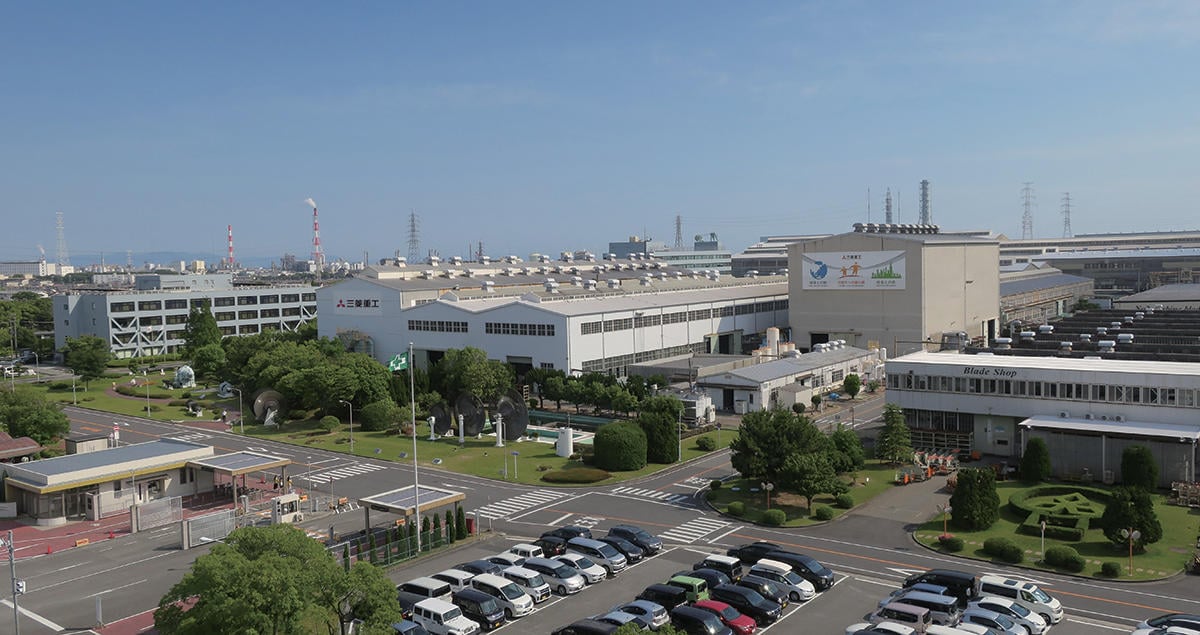 This article was previously published in our newsletter, if you're not already a subscriber, sign up here.
Takasago Machinery Works is innocuously named and feels almost hidden away, located near a serene seaside village in western Japan. Make no mistake, however: this is not only the 'mother factory' for Mitsubishi Heavy Industries (MHI) Group's world-leading gas turbines; it could justly be described as the mother of all factories. On over 1 million square meters of land there are more than 30 office buildings, machining shops and test facilities, as well as several gigantic assembly sheds, each as big as a conventional factory.
Almost 5,000 employees, Japanese and international, work, eat and live here, with all their needs catered to; there is even a Muslim prayer room. For visitors like us, the impression is of relentless activity: thrumming machine, busy workers, overwhelming heat and noise -- despite our air-conditioned bus (you cannot hope to see Takasago on foot) and our solicitous guides handing us cold drinks.
Monozukuri at its best
Takasago has made many things in its 60-year history, but the key product has always been turbines and today gas turbines, used mostly in power plants, constitute majority of its output. Like the aeroengines from which they are derived, these turbines consist of three main components: a compressor of rotating blades and vanes that sucks in and compress air; a set of combustors that add and ignite the fuel currently natural gas but in coming years hydrogen and ammonia; and the turbine itself. This, comprised of even bigger blades and vanes, drives the shaft…that rotates the generator…which produces the electricity.
This simplistic description disguises the enormous expertise and precision engineering that goes into designing and machining each of the hundreds of parts that make up a turbine. Some are metal, others are made from ceramics and a growing number are 3D-printed using a proprietary, patented metal powder. The air flows into the compressor at speeds faster than that of sound, and the surfaces of the compressor blades are coated to reduce friction. And the blades and vanes have dozens of tiny air holes to help cool the 1,650°C heat in the heart of the machine. This being Japan and MHI, every single part is tested, refined, and re-designed in an endless process of 'kaizen'.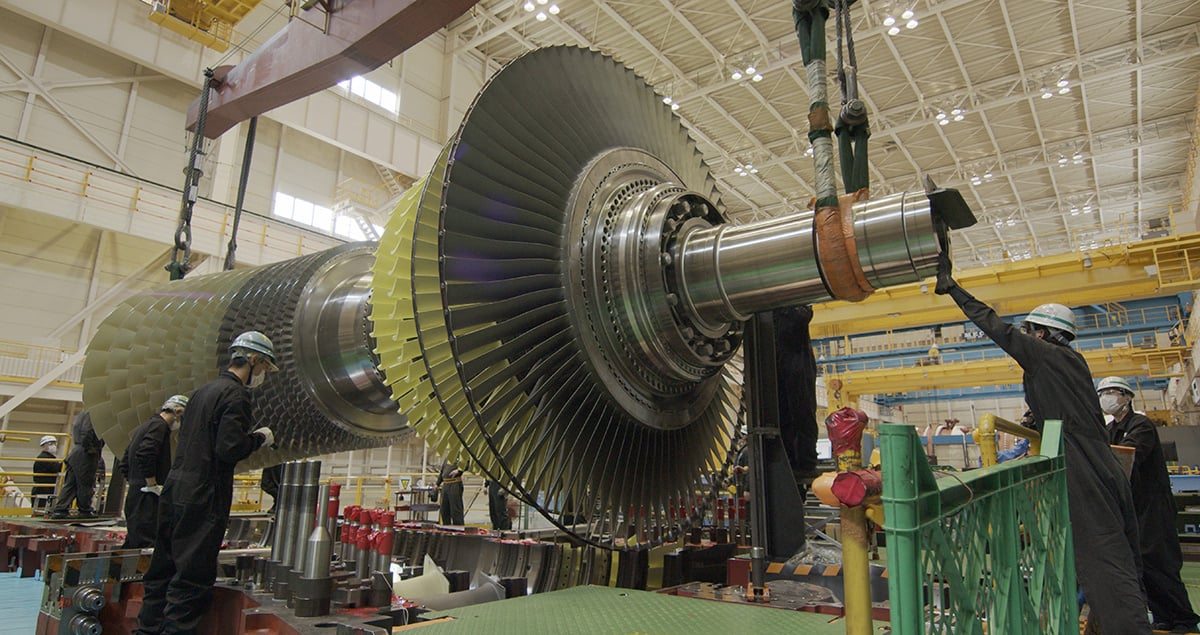 The result is impressive: once a top-of-the-line JAC gas turbine is snugly fitted into its heavy metal casing it is the size of a bus, weighs 600 tons and can generate up to 840 Megawatts of power in a combined cycle set-up. That is more than most wind or solar farms and almost as much as an entire nuclear power station. According to Gas Turbine World, the JAC gas turbine is the most efficient and among the most powerful heavy-duty turbines in the world.
But there is more to see at Takasago than sheer prowess at 'monozukuri' or making things. The site also comprises research, development, design and verification. In fact, it has its own real power station, T-Point 2, where turbines can be exhaustively tested for many months, with the electricity flowing into the local grid of Hyogo prefecture. This level of integration is unique, leading to efficient development and high reliability. No other global company in this industry has a similar facility.
Going clean and green
Modern gas turbines can reduce carbon dioxide emissions by two thirds compared to a conventional coal-fired boiler. But with society focusing on full decarbonization, MHI has started to develop new models that can co-fire clean fuels like hydrogen: up to 30-50% currently, with the aim of reaching 100% by 2025 for the 40MW class and by 2030 for the 450 MW class.
Naturally, Takasago is being tasked with solving the engineering challenges. Hydrogen co-firing mostly just needs different combustors and the hydrogen co-firing has already started at customers' power plants. In the US, the world's largest hydrogen fuel blending of 20% was successfully verified at the McDonough-Atkinson plant in June 2022.
Takasago has also started development of ammonia gas turbines. Ammonia is attracting attention as a carbon-free fuel especially in Japan and APAC. However, it requires dedicated combustor development as it has a totally different chemistry from hydrogen.
A more immediate hurdle is finding enough hydrogen with which to test the new turbines. Right now, hydrogen loaders bring in supplies for an hour-long combustion test. Hence the latest addition to the site will be a 'hydrogen park', that will include production (for example, via an electrolyzer), storage and piping that will produce enough of the gas for longer tests.
The final element at Takasago is its TOMONI HUB, from which a team of engineers with high-security clearances monitor more than 180 gas turbines operating at power stations around the world. The amount of big data collected via the TOMONI remote monitoring system is so vast that the team can often alert customers about maintenance issues before they happen. They can also suggest improvements to operating performance that can save millions over the lifetime of a gas turbine.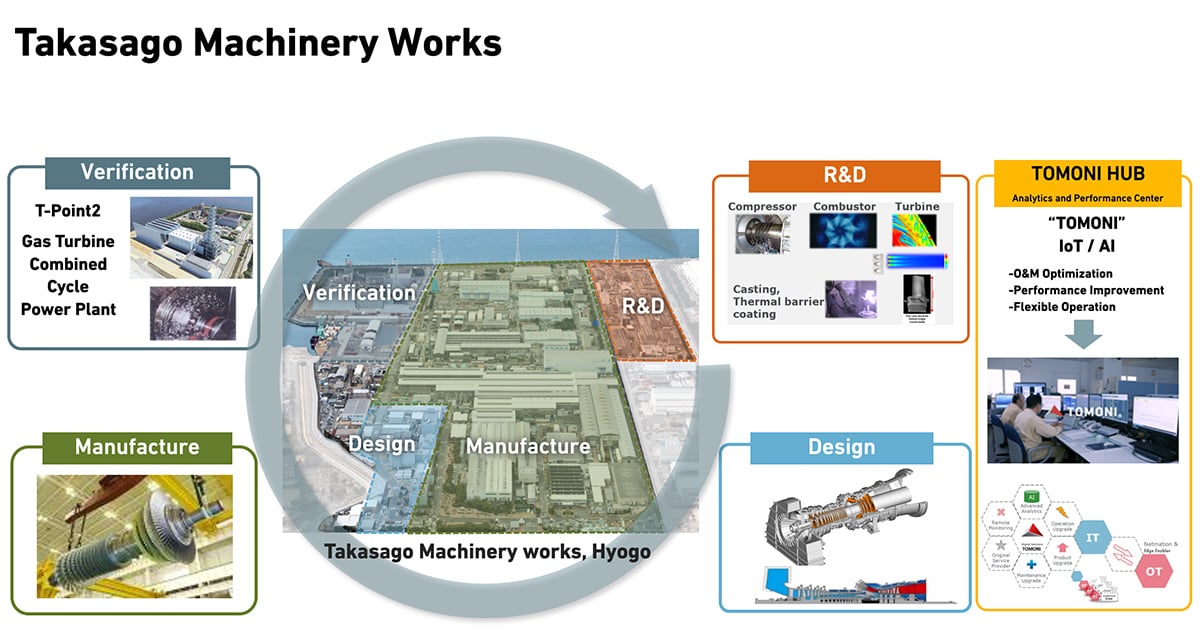 This dedication to client service is another factor that sets apart the group from its peers. This is appreciated by customers and surely one factor behind MHI achieving global market leadership in heavy-duty gas turbines for Q1 2022, with 36%.
Still, the decision to purchase a major piece of power plant equipment, is a hard one, even for a big customer. The key, our guides told us, is to get them to take a tour: most of those who visit Takasago end up buying.