Robotic car parking systems make for stress-free mobility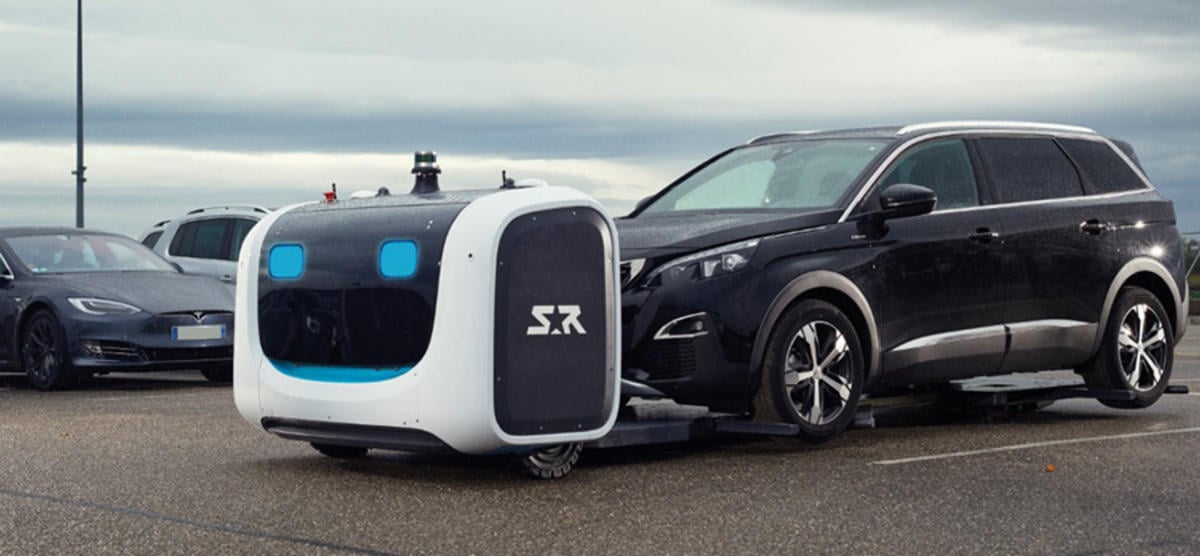 It's a common scenario: you arrive at an airport to catch a flight and the first challenge is finding a parking space. Instead of driving around in circles for 10 minutes, imagine dropping your car in a cabin by the car park entrance and making your way straight to the terminal — stress-free.
Automated valet parking systems at major European airports enable you to do just that. "Stan," the world's first valet-parking robot developed by Stanley Robotics, a French venture-backed company, has been installed at Lyon-Saint Exupéry and London Gatwick. The system could change the dynamics of parking, not only at airports, but also at automotive factories, where robots are taking on the transfer of finished vehicles from the shop floor to the car pool.
How robotic car parking systems work
When travelers enter the long-stay car park at an airport, they are guided to a block of garage-like cabins to drop off their cars. Each car is driven into an individual cabin, before the traveler then leaves the cabin with their luggage and a door closes down behind them, securing their vehicle. At a kiosk outside the cabin, they then confirm their booking and the details for their return flight before heading to the terminal.
The Stan robot then enters the cabin, positions its forklift-like platform under the vehicle, gently picks it up and takes it to a designated parking bay. The valet robot's lifting mechanism automatically adjusts to the size of the vehicle's wheelbase to ensure safe transport.
Thanks to the robot's high-level sensor fusion technology and intelligent management software, Stan is able to move around the parking compound independently. Its onboard technology helps it avoid collisions with stationary vehicles and other robots on the move.
The information the travelers gave at the kiosk on arrival lets the parking system know when to take the car back to a cabin for pick-up. The entire process — from vehicle drop-off, through managing the robots and space optimization to customer support — is automated using specially designed parking software. The Stan units are battery powered and recharge themselves independently between jobs.
An automated mobility solution
As there is no need to allow space for opening doors or trunks, or letting pedestrians and other vehicles pass, the room each car occupies in the compound can be minimized.
As a result, car park operators can store 50% more vehicles in the same area, generating additional revenue and simplifying their operations.
Compared to building a multi-story car park at limited space - and the challenges that can bring both in terms of land available and site access - the automatic parking systems can be rolled out quickly and at a significantly lower cost.
In the next few years, as tourism and air travel recover from the pandemic, automated valet parking could present a serious opportunity for operators looking to raise extra income from their existing infrastructure.

Rethinking finished vehicle logistics
Stan's ability to efficiently move and store vehicles across large spaces has also put it on the radar of automotive manufacturers and those involved in the logistics of getting finished vehicles from the factory to dealerships.
Again, this approach saves carmakers time and cost while adding flexibility. It is all thanks to process automation and better use of existing land and storage facilities, as well as making the most of technology available in newer automotive factories.
The robotic helpers can also step in alongside human drivers to help address the current lack of qualified drivers in finished vehicle logistics, which is due to an acute labor shortage in service jobs since the pandemic began. This shortage is felt even more keenly as production levels increase: over 80 million cars were manufactured globally in 2021 as the industry rebounded from a fall in production in 2020 due to Covid-related shutdowns. Stan offers a solution for finished vehicles that can fill the gap between the skilled driver shortage and car demands.
And as the robots are battery powered, they can make a contribution to cutting the automotive sector's CO₂ emissions because vehicles are no longer being driven from the factory to the car pool.
With the continued rise of smart factories, robotic transportation could eventually be integrated with production planning systems, inventory management and other shop-floor automation to create a seamless automated workflow.
Stanley Robotics' ability to develop autonomous handling robots with intelligent storage management software has led to a cooperation with Mitsubishi Heavy Industries (MHI) Group, which has years of experience in mechanical parking garages, traffic flow management systems, and unmanned system surveillance/management systems. Together the two partners hope to address other new markets as well.
Longer term, you might even see similar systems in your local shopping mall, at an amusement park — or even embedded within a self-driving vehicle that drops you off and then finds its own parking space.
Could parking — whether you're doing the weekly shop, working in a factory or about to take flight — finally become stress-free?