Innovation through co-creation: MHI's Yokohama Hardtech Hub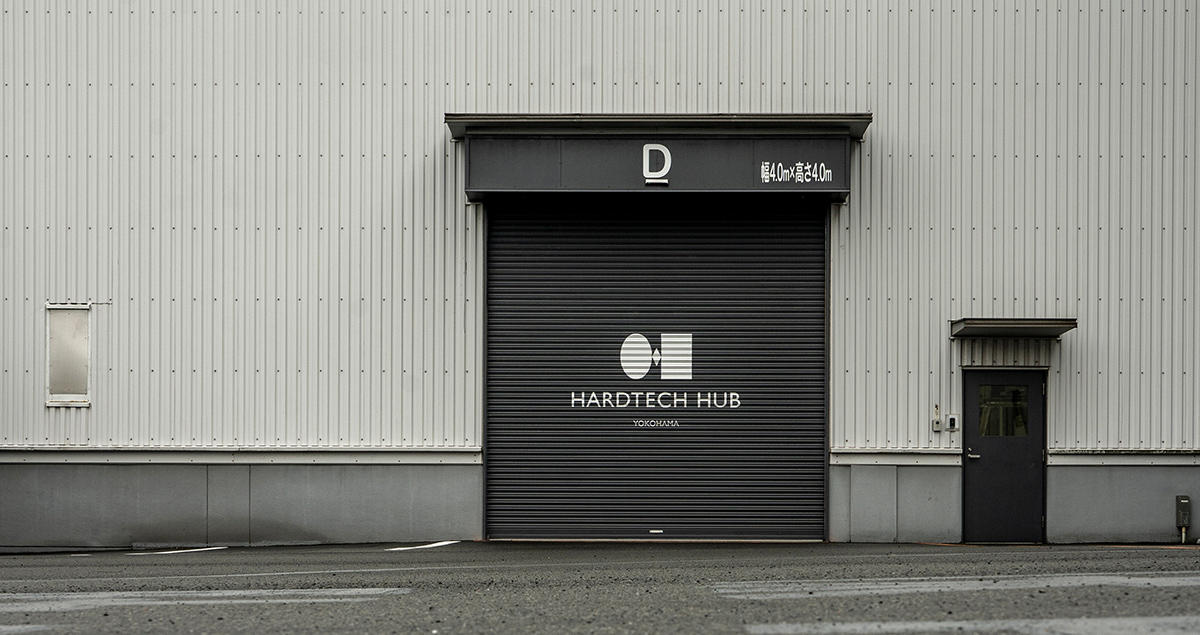 The first impression is one of space. Yokohma Hardtech Hub (YHH) is enormous: some 20,000 square meters, spread across three refurbished, interconnected factory buildings. You can drive a truck through the front door; the ceiling is almost 15 meters high; and there are cranes running along it that can lift several tonnes of equipment. For typical office workers like ourselves, it feels like exploring a gigantic cave, filled with unlimited possibilities.
That is exactly what its founder, Mitsubishi Heavy Industries (MHI) Group, has in mind. In October 2020, MHI set aside these buildings – once used to manufacture turbine blades – at its gigantic Yokohama Dockyard & Machinery Works as a home for YHH. The location matches the intention: 'hardtech' expresses the combination of new digital technologies, such as AI and IoT, with physical innovations, like quantum technology and microfabrication, to develop the next generation of mechanical systems.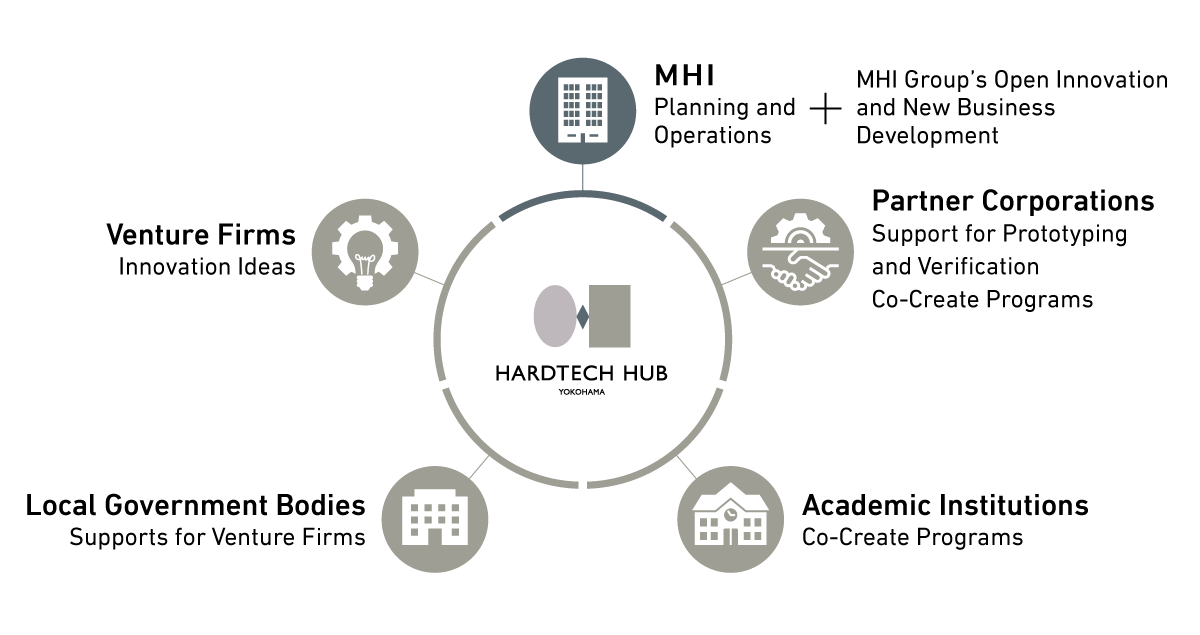 Hardtech x co-creation = innovation
It is here that MHI hopes to create a home for start-ups that are rooted in manufacturing just like itself, as well as other stakeholders that also believe in the 'hardtech' concept. YHH is designed to be the hub where these new companies can base themselves and grow, with their physical needs (power, water, air conditioning) supplied, initially for three years, at a rent that is very reasonable given the proximity to Greater Tokyo. But YHH aims to supply more than just high-quality physical space; it also works with various organizations such as partner companies, venture capital firms, local government bodies and academic institutions to provide the companies it fosters with access to capital, networks and ideas.
Hence the YHH formula: hardtech x co-creation = innovation. And where better to run this experiment than in the heart of a giant manufacturing site where even today metal is still being bent and ships repaired?
The establishment of the Yokohama facility comes against the background of a worldwide jump in venture capital investment, as ample supplies of cheap money are backing new technologies to solve an ever-expanding set of pressing social challenges. Global venture investment is on course to double to a record $580 billion in 2021, according to data provider CB Insights, while start-ups in Japan raised more than $5 billion, a 60% increase, in the first nine months of last year. In particular, start-ups which contribute to solving social issues are among the highest growth areas and these ventures need a co-creation space in order to tackle such issues with other stakeholders.
Helping hardtech develop soft skills
While the bulk of that money is going into purely digital technologies, like the cloud, as well as areas like financial services, more and more manufacturing companies are setting up 'hardtech' collaboration spaces where the start-ups they are supporting can go through the numerous rounds of prototyping and refinement required to develop a new piece of hardware. As a Japanese Cabinet Office survey points out, the start-ups also need help with processes like applying for patents and licenses, with finding more employees and skilled managers as they scale up and, eventually, with mass production. Like any incubator, YHH hopes the businesses it is supporting will succeed to the point where they can leave and set up their own independent manufacturing site.
In return, established companies get a ringside seat at the development of new technologies and businesses and can potentially invest early on – though MHI does not get preferential deals at YHH, investing strictly on the same terms as any financial backer as and when it does invest.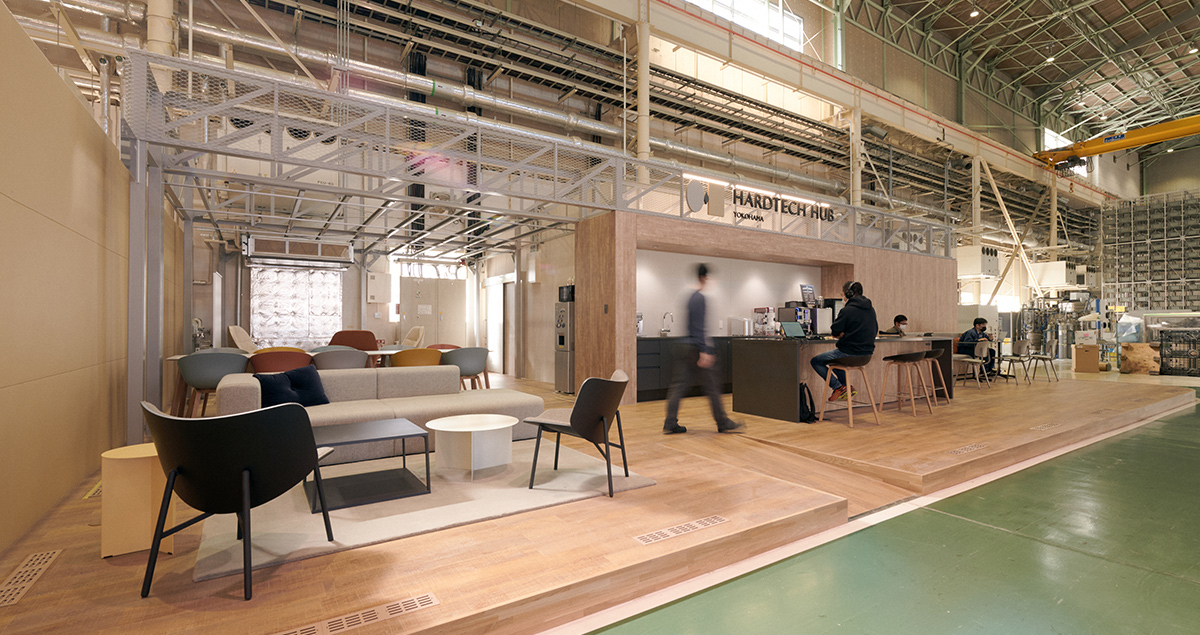 With YHH into its second year of operations, it is currently hosting eight companies , all of which have been assessed not only for their technology and business growth potential but also for their enthusiasm in tackling social challenges. One manufactures satellites and space-related equipment; another is developing highly efficient battery management systems for e-mobility( e-buses and forklifts etc.) and stationary storage batteries; a third is working to revolutionize how plastic molding factories operate. After a return visit, we intend to write more fully about their various co-creation plans in a future article – by which time, new start-ups may well have joined, with YHH also hoping to attract its first international tenant.
Already, however, it is clear that YHH is on the way to achieving its mission to contribute to discovering technological solutions to some of society's most pressing challenges – a mission it has in common with MHI itself.
So, why not visit YHH and feel the energy and synergy for yourself.