How we can make our power grids more stable and resilient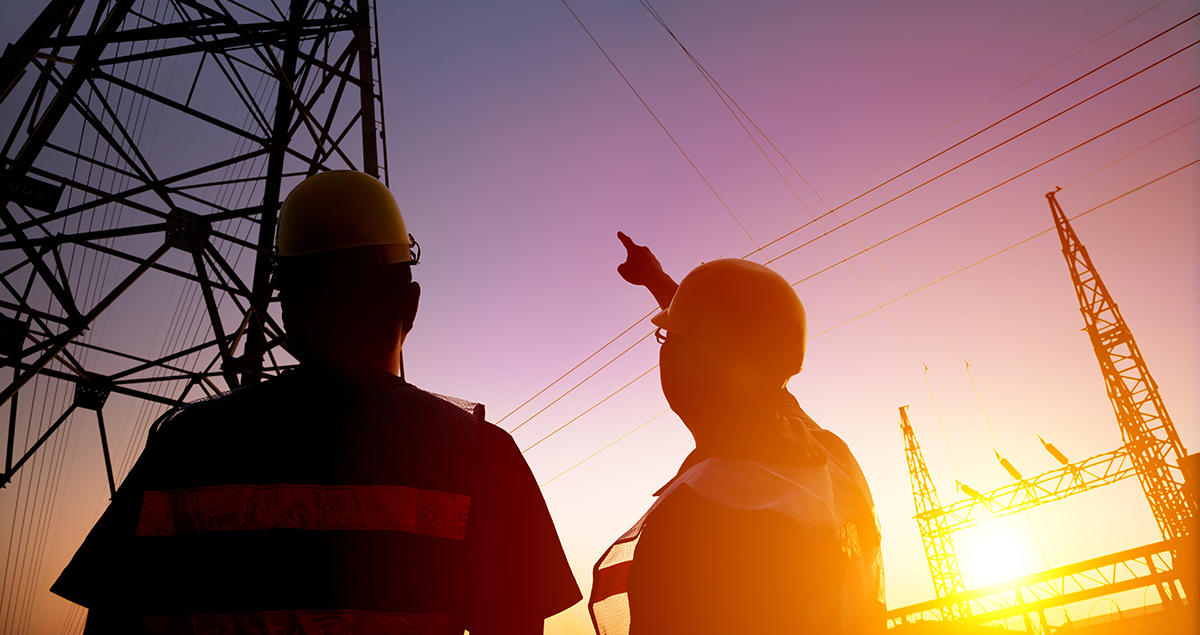 It's a classic supply-demand imbalance. Global energy demand is forecast to rise over the next 20 years, but fossil fuels — currently the principal source of power generation — cannot meet growing needs.
That's the upshot of the latest global energy report from the International Energy Agency (IEA). While fossil fuels will remain the primary source of electrical power for the foreseeable future, the increasing use of renewable energy sources like wind and solar needs to complement them.
That's good news for the planet. These varied wellsprings of electricity, however, put added pressure on the country's aging electrical grid — a challenge that makes necessary its own set of solutions.
A massive and ungainly system
Today's grid is a massive feat of human engineering. Composed of more than 3,200 electric distribution outlets, nearly 10,000 generating units and roughly 300,000 miles of high-voltage transmission lines, it takes the shape of several large, interconnected systems spanning the continental 48 states.
The grid, originally built in the 1890s, has long been a work in progress. Initially, it consisted of more than 4,000 individual electric utilities operating in isolation. After World War II, these utilities began to connect their respective transmission systems. As new technological advancements emerged in each subsequent decade, they were effectively bolted onto this creaking foundation.
The expansion held, but unfortunately, the grid's patchwork quality makes it more vulnerable to the risk of power outages. When one part of the connected grid needs repair, everyone is at risk of losing electricity. Outdated engineering, antiquated transmission lines and alarming increases in catastrophic weather events and cyberattacks also contribute to an increasing number of outages. When the grid buckles, vulnerabilities emerge — for businesses, for consumers and for the security and economic stability of the country itself.
Several innovative efforts are underway to modernize, strengthen and stabilize the grid. A case in point is the ongoing development of smart grids, using digital communications technologies, such as smart meters and smart appliances, along with other energy-efficient resources. Other promising advances include the deployment of microgrids and autonomous power plants.
Such ingenious approaches to traditional energy generation are direly needed, given the complexity and instability of the current grid, the emergence of increasingly diverse sources of electricity and the rising demand for power worldwide.
Hungry for power
The IEA estimates that electricity demand worldwide will increase 60 percent by 2040, with developing countries accounting for much of the demand. By 2040, the IEA report states, the Asia-Pacific region itself will consume 46 percent of the world's energy. In more developed countries, the IEA expects demand to increase about 30 percent through 2040, due in part to the rising use of digital and data technologies by businesses. Electricity markets are particularly vulnerable to the demand brought on by technological change, such as the increasing digitization of the economy and the rise of electric vehicles (EVs).
Despite growing global concern over the climate-changing effects of greenhouse gas emissions, coal is expected to remain the world's largest source of electricity. However, projections indicate that coal will only generate 25 percent of the world's total power supply — a 38 percent decrease in share. Renewable sources of energy that aren't depleted by use, such as water, wind and solar power, will make up the difference.
Integrating renewables with traditional fossil fuel energy sources is crucial to optimizing power plant processes. But the inherent variability of wind and solar energy production is a challenge. Winter typically brings strong winds, while sunlight is at its height in the summer. For now, not all excess capacity can be put to use. Grid operators continue to seek ways to balance a variable supply with fluctuating demands.New concepts and approaches from grid operators are key to ensuring a consistent and steady balance of electricity sources and supply.
Stabilizing the grid
Microgrids manage to address current grid constraints by circumventing them altogether. When outages require repairs to the larger central system, secondary grids can operate on their own using local energy generation. This method not only provides a backup source of power when the main supply falters, but also empowers small communities to boost their energy independence and avoid a reliance on unmanageable scale. Smart grids, such as the one MHI built and successfully tested in Japan in 2011, represent another encouraging development. In 2017, MHPS launched MHPS-Tomoni, a revolutionary digital solutions platform that discovers ways to optimize power plant operations.
MHPS-Tomoni focuses on providing complete energy solutions in partnership with customers ("tomoni" means "together with" in Japanese). The platform comprises diverse applications that harness and analyze big data to enhance plant performance, improve electricity availability, lower costs and benefit the environment.
Thousands of sensors capture massive volumes of power plant data every second, and MHPS-Tomoni leverages this data to provide insights to operators towards maximizing overall plant performance.
"The initiative is an important step as we seek to build the cognitive power plant of the future," said Kenji Ando, MHPS president and CEO.
As these examples illustrate, industry leaders are taking key steps to gird the grid for the anticipated rise in global power demand and the move toward a wider energy source array.
Such developments will come as welcome news to the close to two billion people worldwide who still lack reliable sources of electricity. For the rest of us, they'll streamline access and output, doing so with less waste and a smaller impact on the planet.