How the online shopping surge is driving greener warehouse machinery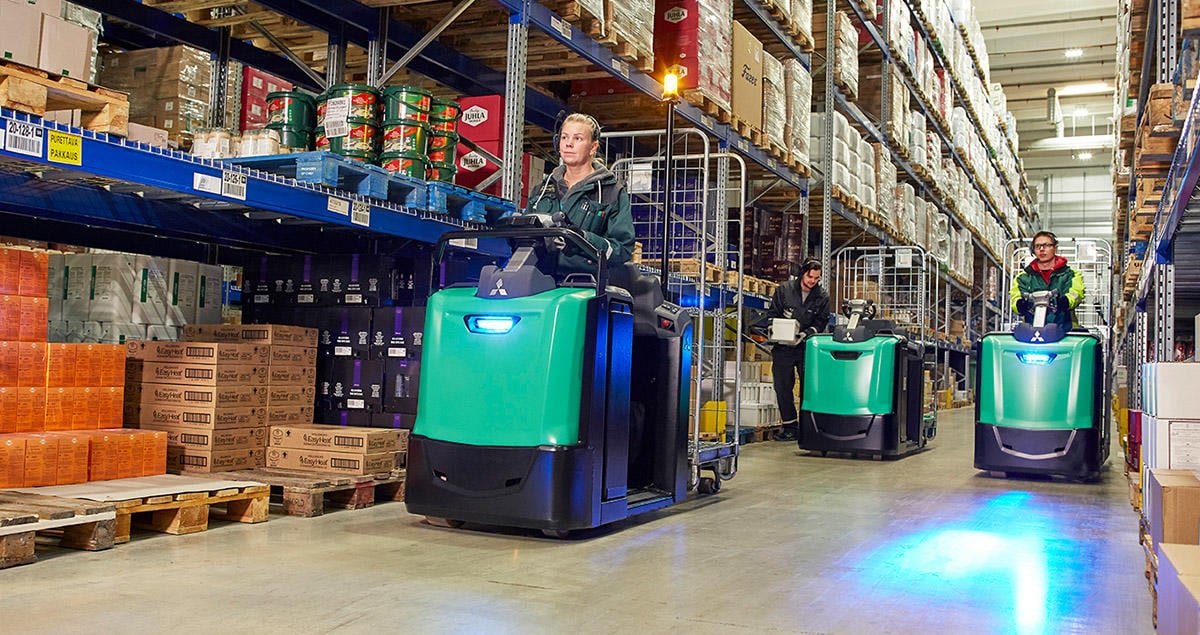 From Amazon and eBay to ASOS and Deliveroo - e-commerce has revolutionised our shopping habits. Nowadays, all it takes to get books, clothes, and the latest gadgets delivered directly to our front doors, sometimes even on the same day, is a couple of thumbs and a smartphone.
Given such convenience, it is no surprise online shopping is proving so lucrative. Over the past five years, online sales of non-food items have soared in the UK, rising from 11.6 per cent of the total market in December 2012 to 24.1 per cent by the end of 2017.
For many physical high street retailers the disruption has been difficult to weather, certainly. But perhaps less well documented is the impact of the e-commerce surge higher up the supply chain. After all, although out of sight from consumers, all of the things we buy online first need storing, packaging up, and posting off from somewhere, placing greater onus on warehouses and logistics operations to be faster, more efficient and also, it seems, greener.
For Mitsubishi Heavy Industries (MHI) Group, a major manufacturer of materials handling equipment, the business opportunities are clear.
"With the rise of internet shopping and the number of parcels delivered on peoples' doorsteps, the industry is growing extremely fast," Hans Seijger, VP for sales and marketing for Mitsubishi Forklift Trucks, a product brand under MHI Group, tells BusinessGreen. "And that means more and more of those loads need to be handled by fewer people, and our equipment is there to take care of that. We are usually faced with situations where we need to optimise the space and increase the productivity of shelving, loading and unloading - and order picking if that's happening in a warehouse - and all at lower cost. Costs have only gone down year on year, and therefore energy costs - being green - is almost implicitly included."
Mitsubishi Forklift Trucks works with 9 factories worldwide. In Europe, Middle East and CIS alone offers more than 600 different combinations of forklifts and warehouse equipment for a wide range of industries. Some of these clients, such as those in construction for example, obviously require their materials handling equipment to operate outside. But it is inside the warehouse where, thanks to the e-commerce boom and indoor air quality rules, innovation in electric-powered vehicles is especially being driven forward.
"Clearly, it is partly regulation-driven," Seijger explains. "A lot of materials handling - especially warehousing - is done inside where combustion engines are clearly no longer acceptable in a healthy working environment due to the emissions, so almost by definition it is going towards electric. But the performance, the power, and endurance of the equipment has improved tremendously in the last few years. It may not seem like that when you look at a forklift truck from outside, but the inside is now completely different."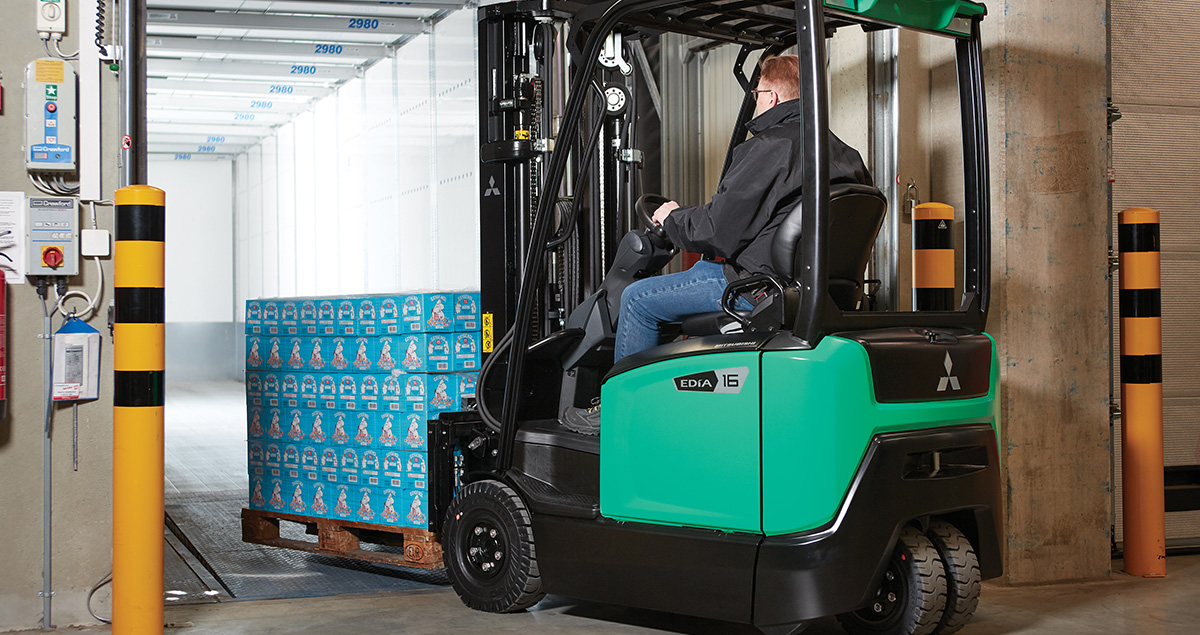 Just as passenger electric vehicles have benefitted from battery technology coming on leaps and bounds in recent years, the latest electric forklift trucks and order pickers are now able to operate for longer on a single charge. Up until even the last three years or so, warehouse materials handling equipment needed recharging several times to complete just one day's shift, with large, heavy batteries requiring an expensive recharging room on site. Now electric forklift trucks are not just a regulatory necessity for warehouses, but also the most optimal solution from an efficiency and cost perspective, argues Seijger. "The new forklift designs have reduced energy consumption to such an extent that it is now more frugal to operate without surrendering any of the performance," he says.
What's more, the efficiency improvements keep on coming. Launched last year, the Mitsubishi Velia ES low-level order picker range is 14 per cent more efficient than the industry average. It boasts features such as smooth stopping and starting technology enabling it to pick more items over a shift compared to competitors.
But such gains aren't all down to electronics and battery development. Indeed, much of the work that goes into Mitsubishi Forklift Trucks also focuses on harnessing smart software and ergonomics to get the most out the equipment within a specific environment. As a result, sophisticated algorithms backed by real-world data models are used to help optimise the performance equipment in the warehouse, ensuring as few wasted journeys or movements as possible, delivering improvements in terms of energy efficiency and, therefore, the operator's bottom line. Using such techniques, the firm estimates its EDiA EM three-wheel electric forklift range is able to save two seconds per turn, which equates to a saving of 20 minutes per day and 66 hours per year for just one truck.
In turn, therefore, by only running a forklift's large hydraulic pump when it is explicitly needed, and at minimal capacity, it is possible to cut the energy consumption of a truck in half, Seijger says.
"In a warehouse it is all about productivity - how many movements can I achieve within a given period of time?" he explains. "It comes down to the very fine details - seconds, or sometimes fractions of second - because these tasks are highly repetitive. So, does the truck respond intuitively to the input of the driver, or does it feel artificial? Is it nice to drive, or rough around the edge? That's a software thing, and I would say that in developing the right control software for the truck, we have been able to combine improved ergonomics with improved driveability together with energy saving."
Durability is another key attribute clients look for that also comes with added green benefits. For Mitsubishi Forklift Trucks customers, it is crucial their equipment lasts the distance with minimal maintenance costs, Seijger explains. "A durable product provides a good business case," he says. "These trucks will keep their value because people will be able to rent them out for longer and then sell them for more at the end of their life."
All in all, with technological advances and efficiency improvements expected to continue - in addition to further growth in online shopping - the shift towards electric vehicles in materials handling seems as inevitable as that on the roads outside.
"Clearly the industry is moving towards electrification, and the reality is we are breaking down loads into ever smaller units, requiring smaller equipment," Seijger says. "So with the growth in services like door to door delivery, the requirement for equipment just increases. We see, especially in very small power trucks, an exponential volume increase in the market."
Still, don't expect industry-wide, 100 per cent electric forklifts and other materials handling just yet, and especially not for applications outside warehouses. Some markets such as the UK are "very traditional", Seijger reflects, with many industries preferring the flexibility and lower infrastructural requirements of combustion engine trucks for outside operations.
"I don't think the time has come yet for that," says Seijger. "As much as we would like to do away with vehicles that produce emissions, for certain applications there are simply no alternatives yet. Operating electric equipment outside is possible, but if you can imagine a builders' yard with uneven terrain and bricks and clicks, that's not ready for electrification yet."
Still, given ongoing technological improvements and the growth of online shopping, coupled with increasing moves to clamp down on emissions from non-road diesel equipment outside, the pressure to ensure optimal efficiency alongside minimal environmental impacts will continue rising. And MHI, with its relentless focus on energy efficiency, plans to be at the forefront of that greener future.