How industry collaboration can kickstart green hydrogen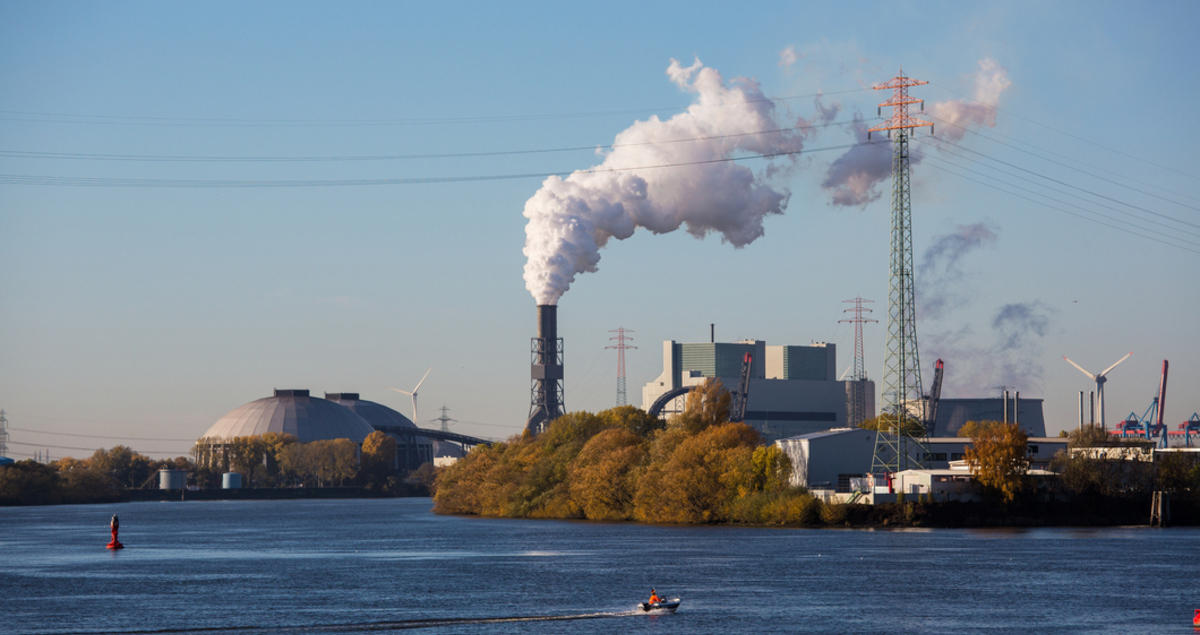 Europe has long been a leader in pioneering sustainable energy sources like wind and solar, and the rise of clean hydrogen is no exception.
Several green – generated from renewables – hydrogen hubs have sprung up across Europe, forming the green shoots of a hydrogen future for the region and beyond. But, while these pioneering projects could kickstart clean hydrogen adoption at scale, collaboration between industry, policymakers, utilities, engineers and many other partners is key to their success.
As green hydrogen is emissions-free when produced, and emits only water when combusted, it is seen as a vital part of efforts to decarbonize areas of the economy that cannot be simply electrified. And while the idea of a hydrogen economy is nothing new, with production costs tumbling, a favorable EU policy framework and a growing imperative to switch to sustainable energy, the race to scale up collaborative green hydrogen infrastructure projects is on.
Like minds
One such collaboration opportunity is the Green Hydrogen Hub in Hamburg, which Mitsubishi Heavy Industries (MHI) Group is looking to develop in partnership with Shell, wind energy major Vattenfall and local municipal company Wärme Hamburg.The four partners have signed a letter of intent to explore the feasibility of converting the site of a former coal-fired power plant into a 100MW hydrogen project that could begin producing clean hydrogen by 2025.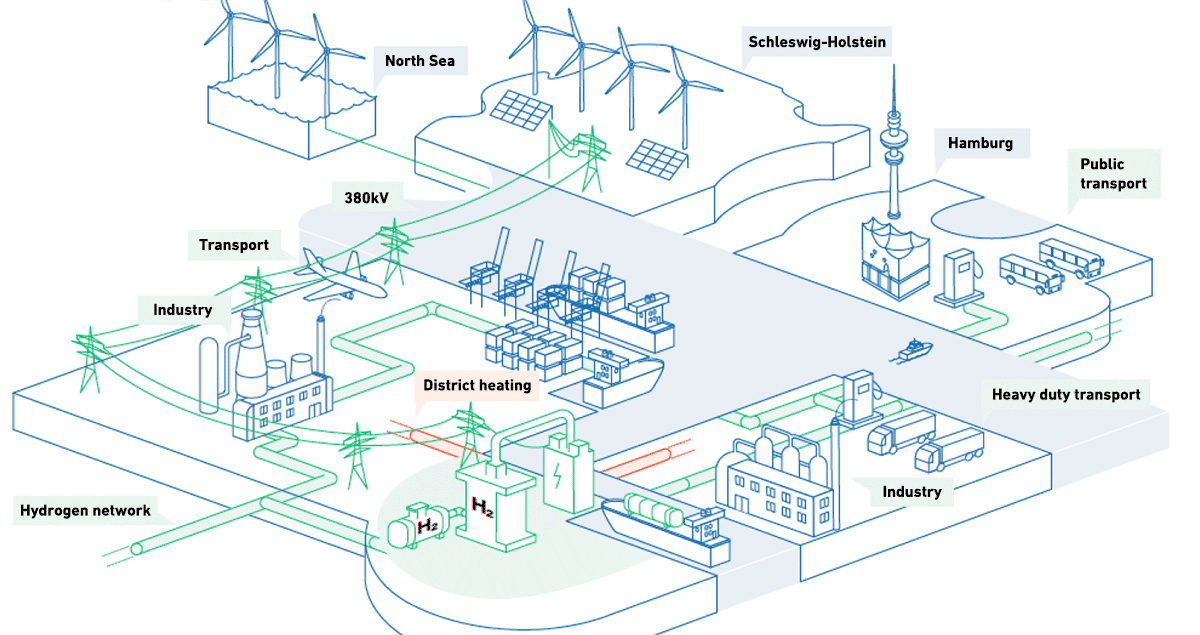 At the heart of the site in Hamburg's Moorburg district, an electrolyzer would produce green hydrogen with an initial output of 100MW powered by renewable energy from solar photovoltaic (PV) installations and wind farms in the North Sea. Once completed, the electrolyzer would be one of the largest plants in Europe and a medium-to-long-term increase of its capacity to 500MW and beyond is already under consideration.
A feasibility study will look into the smart integration of a hydrogen production facility with the site's former coal-fired power plant; it will also look at storage possibilities and connections with future transportation infrastructure under development by local gas grid operator Gasnetz Hamburg. A future green hydrogen hub on the site could eventually supply hydrogen and heat to the city of Hamburg and help decarbonize the region's industry and transport systems. The study will explore ways to utilize all forms of waste heat from the electrolyzer project – such as using surplus thermal energy for the city's heat supply – to maximize energy efficiency.
"The establishment of a green hydrogen hub that is fully integrated into Hamburg's industrial infrastructure would show Europe, and the world, that the hydrogen economy is real and that it can make a significant contribution to the decarbonization of the energy system and heavy industry," said Kentaro Hosomi, Executive Vice President, Chief Regional Officer, Europe, Middle East & Africa at MHI.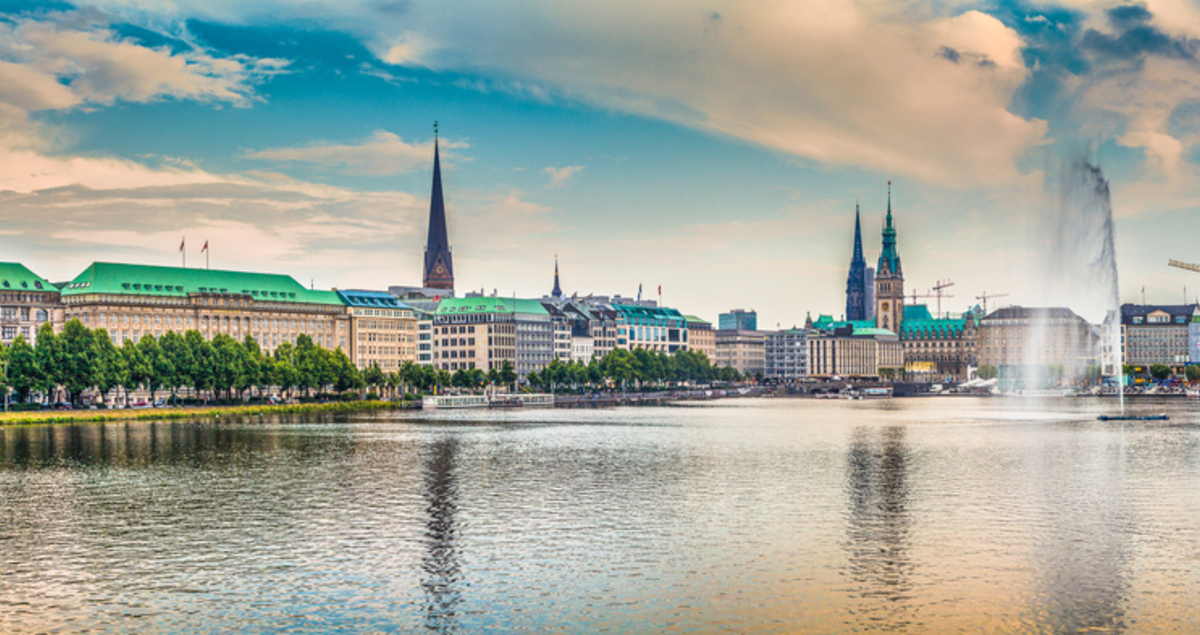 Collaboration at work
While there is work still to do before green hydrogen can compete on price with other fuels, things are changing fast. Production costs have fallen by 40% since 2015, according to an IHS Markit report, and carbon-free hydrogen could be cost-competitive by 2030.
But it is the potential to decarbonize an entire industrial cluster on a single site that is driving the agenda of projects like Hamburg, bringing together partners from different sectors working toward a common goal.
The Hamburg Hydrogen Network (Wasserstoff-Verbund Hamburg) brings together twelve partners, including those involved in the Hamburg Green Hydrogen Hub, with the unique aim of mapping the entire hydrogen value chain, from the renewable energy that will power the electrolysis process to consumption of hydrogen by consumers.
This would see onshore and offshore wind farms to the city's north ensure a secure supply of clean energy to generate hydrogen, which can be transported using some existing infrastructure to connect the area's high density of large off-takers. Global steelmaker ArcelorMittal has its sights set on developing the world's first industrial-scale production of hydrogen-based steel in Hamburg, for example.
Hydrogen's potential to help decarbonize hard-to-electrify sectors means heavy industry, aviation and the port cluster look set to play a prominent role in the hub's development.
Clusters located near multiple potential hydrogen customers can realize economies of scale and reduce the costs of hydrogen production, according to McKinsey's Hydrogen Insights report. By collaborating on the Hamburg project, the companies involved can also share the risk and make it easier to attract investment across the hydrogen value chain.
By working together across this value chain − from first production to final use − the companies involved in the Hamburg hub hope to answer several key questions: how much of the existing infrastructure from the Moorburg site can be used to produce energy from renewables? Are the necessary logistics chains and storage options for hydrogen feasible? What policy decisions will provide a suitable environment to scale up Hamburg's green hydrogen hub?
Actions speak louder
It is no coincidence that the project is located in an industrial heartland with no end of power-hungry consumers, and there are plans to extend hydrogen infrastructure to the nearby port within 10 years, linking it to international shipping markets and potentially connecting to air transport routes. The sea link could see both the Moorburg site and the wider port area receiving hydrogen imports by sea in future.
Hamburg's hub could become a gateway to extend the supply network to other parts of Germany and beyond, helping to lay the foundations of the country's hydrogen future. And other similar clusters are dotted across Europe.
Hubs from Hamburg to the UK's Humber region are best placed to overcome the challenges associated with launching a green hydrogen economy, such as current high costs, low density and a propensity to leak when transported, demonstrating hydrogen's potential as well as its business case.
The European Commission plans to halve EU greenhouse gas emissions by 2030, leaving a hydrogen-shaped hole for more sustainable fuels. Hydrogen could account for more than 13% of Europe's energy mix by mid-century, according to the European Commission's strategy, up from around 2% today.
With hydrogen high on the energy sector's agenda, the International Energy Agency will release The World's Roadmap to Net Zero by 2050 report this month, a call to action guiding governments, companies, investors and citizens on urgent action needed to decarbonize the energy sector by mid-century.
With collaboration from policymakers, energy companies and numerous other stakeholders, the journey to a clean energy future has already started, turning talk of a hydrogen economy into reality.