From sci-fi to factory floor: These 3 robots are making logistics safer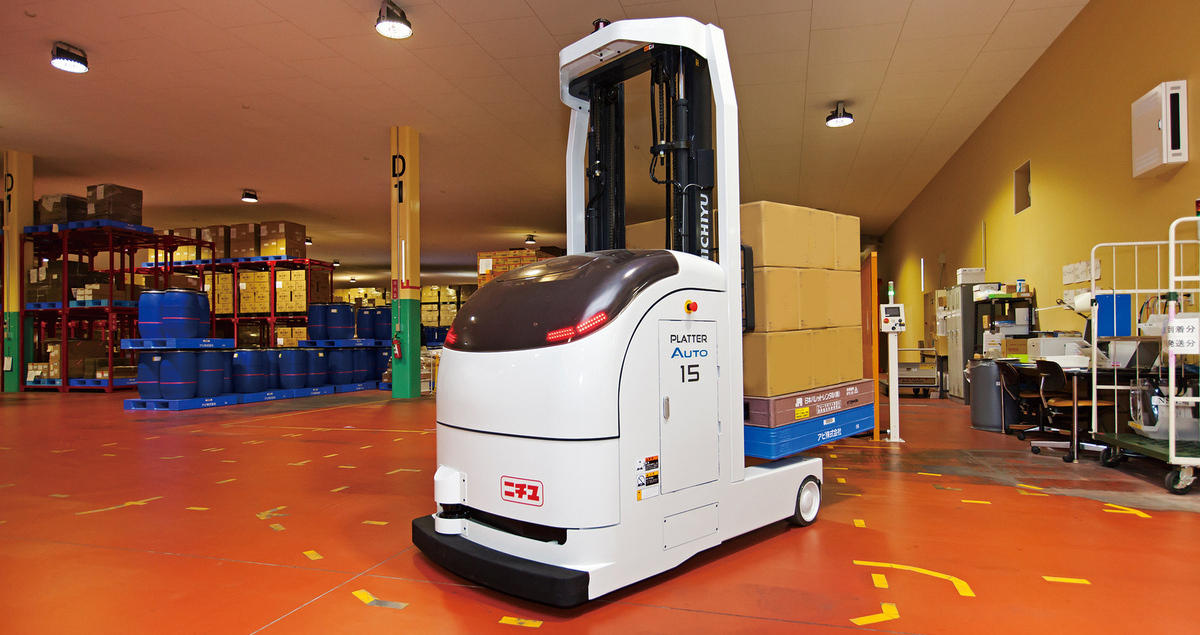 Automation has come a long way since the first robotic arms appeared on production lines − sparking a sense of awe in some people, and a fear of a robot takeover in others.
Fast-forward half a century and our world is increasingly organized, influenced, and operated by algorithms and automated processes. Automation holds the power to transform warehouse and logistics operations into ultra-efficient, cost-effective, and safer environments for humans, and the pandemic is now accelerating the rate of transformation.
Even before COVID-19, the global automated logistics market was projected to grow from $45.7 billion in 2017 to more than $101 billion in 2024. Adopting automated systems offers a way to keep employees safe at work, a term which has taken on new meaning in the wake of the coronavirus outbreak.
Robots don't need to obey social distancing rules, and they reduce the need for humans to come into close contact with each other at work. This leaves employees to attend to higher-value tasks.
Advances in AI and IoT-connected technologies are quickly turning the idea of completely unmanned factories and warehouses from the stuff of science fiction, into reality. That said, robot workers do require precise monitoring and may not be able to perform all tasks done by humans.
Here's how three automation applications are boosting safety in the logistics industry.
1. AI for forklifts and AGFs
Busy warehouse environments are made safer by automated route optimizing systems that detect collisions or obstacles in a warehouse, and reroute automated guided forklifts (AGF) to avoid congested areas.
Adopting automated systems offers a way to keep employees safe at work, a term which has taken on new meaning in the wake of the coronavirus outbreak.
Having already developed such an obstacle detection system for its AGFs, manufacturer Mitsubishi Logisnext is now looking to enhance the intelligence and safety of its human-operated forklifts. It is developing an automated system that uses face recognition technology to help manual forklift operators detect and avoid people in warehouse environments.
In the event of a breakdown, Logisnext's Service Assistant System (L-SAS) is a smart maintenance system designed to get manually-operated forklift trucks and AGFs back up and running quickly. Engine trouble, broken parts, or other issues can be quickly diagnosed by an AI-developed database that troubleshoots the problem and advises on the best remedy.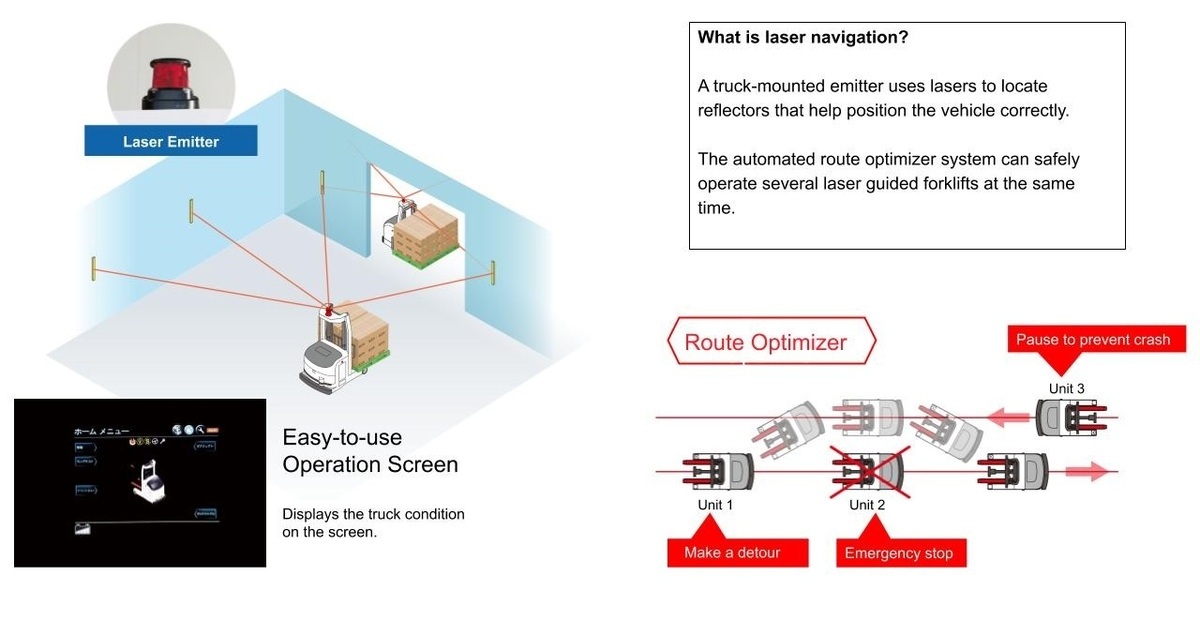 2. Robot floor scrubbers
Keeping employees safe in the age of coronavirus means ensuring workplaces are free of infected surfaces.
A partnership between an AI company that specializes in self-driving technology for robots and a maker of industrial cleaning products aims to clean up – quite literally. Manufacturer Tennant has released a range of robot floor scrubbers, supported by the BrainOS software platform, allowing them to work safely alongside human operators.
As well as eliminating the need for human cleaners to enter an environment, the scrubbers reduce the risk of slippery floors while ensuring sterile, bacteria-free warehouse floors.
Being AI-enabled, the cleaning units can safely avoid human workers and obstacles without the need for GPS or supporting infrastructure.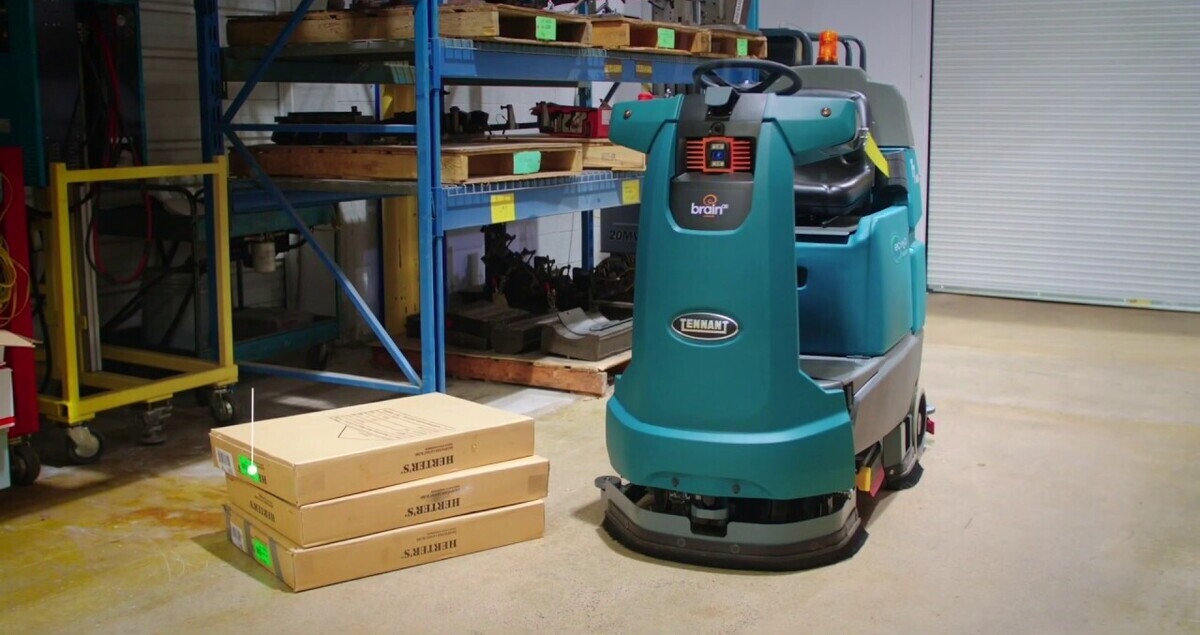 3. Picking robots
Retailers and their suppliers are investing heavily in order-picking robots in their warehouse operations, to enable social distancing among workers.
Amazon has championed the use of robots in its delivery and fulfilment centers since 2012, and now has more than 200,000 robotic vehicles working alongside human employees.
But the pandemic has accelerated this trend. Fashion retailer Gap, for example, announced plans to triple the number of picking robots used to fulfil online orders, to a total of 106.
Algorithms control the cyber-pickers' vision and movement, allowing them to assess their environment in real time to accurately pick and process orders. As each robot can process the workload of four human employees, more robots means less contact between workers.