For demanding workplaces and preventing global warming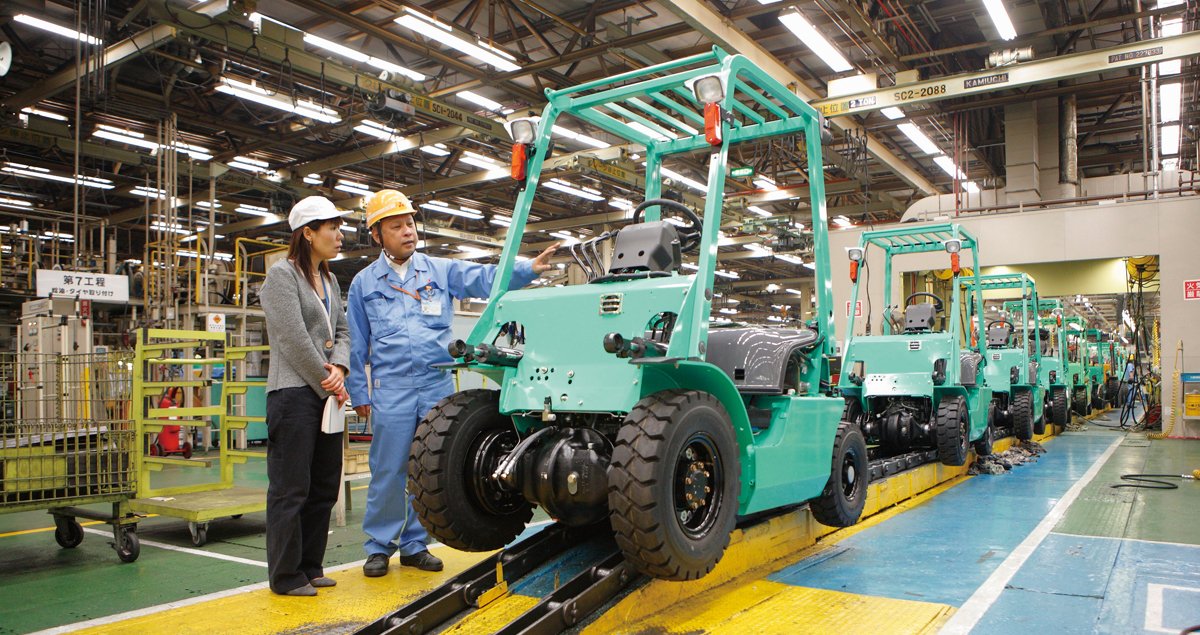 The World's First Hybrid Forklift Trucks
On October 5, 2009, the world's first engine -battery hybrid forklift truck with 4.0 to 5.0 ton rated capacities, the GRENDiA EX Hybrid went on sale in Japan. Recently your reporter, Noriko Matsuba, visited the General Machinery & Special Vehicle Headquarters to see these latest forklift trucks.
What kind of object do you imagine when you hear the term "forklift truck"? You might get a good idea from a description of a work vehicle for industry with two horizontal forks that can move up and down attached to its front, enabling it to lift and carry cargo weighing many tons. Having been involved with various engine-type and battery-type forklift trucks in the field of industrial vehicles, the General Machinery & Special Vehicle Headquarters recently unveiled the world's first environmentally-conscious engine and battery hybrid-type. I visited the production factory in Sagamihara City, Kanagawa Prefecture.
Arriving at the spacious and tree-lined factory, I met Fumihiro Akahane, the engineering manager at the Industrial Vehicle Engineering Department.
The hybrid vehicles currently seen around town are becoming a more familiar part of our lives, and the GRENDiA EX Hybrid was put onto the domestic market as an industrial vehicle that can respond to the needs of such an age, so I was eager to hear more about it.
"The word 'hybrid' means 'compound' or 'mixture,' and it is a system driven by a combination of plural power sourcesan engine and a motor," said Akahane. "The hybrid vehicles that everyone knows and these hybrid forklift trucks have the same structure. This way, let me show you."
Struggling to keep my eyes from the many large forklift trucks surrounding us, I was led further into the depths of the factory, to emerge into an open space outside where I was able to see the forklift trucks up close for the first time. An environmentally-themed green finish makes them seem gentle at first glance, but with the ability to lift 4.5 tons (the equivalent of four light vehicles), when their forks are raised to the sky they look very powerful. Asked about the kinds of situations they are used in, Akahane replied, "They are used for carrying lumber and materials for construction, as well as rolls of paper used in printing." Glancing down, I noticed that the ground was covered in skid marks, the kind that result from sudden braking. "This is a testing area, where we examine qualities such as durability. Forklift trucks have much longer hours of operation compared to passenger vehicles, and are used for up to 5,000 hours a year, with the average running time being roughly 1,000 hours." It seems durability is an important factor for forklift trucks working under such severe conditions.
Next it was time to find out what was under the hood of the world's first engine and battery hybrid-type. Akahane explained that "it moves via a combination of a diesel engine, and lithium-ion secondary batteries and a motor. The motor is used for starting, because it provides instantaneous force. Meanwhile, when traveling at over 5 km/h and carrying cargo, both the engine, which can deliver more power, and the motor are used together. In addition, it is possible to collect energy that used to be wasted in MHI's forklift trucks up to now, and store it in the lithium-ion secondary batteries for reuse later." It seems that what happens is, when braking, the kinetic (rotation) energy of the tires that would normally be discharged is used to run the motor, which generates electricity that is then stored in the lithium-ion secondary batteries for reuse at a later stage. "The hybrid-type combines the best parts of the battery-type, their electric power and no CO2 emissions, with the best parts of the engine-type, with their power and endurance," boasted Akahane. With this kind of mechanism, a 39% decrease in fuel costs has been achieved, compared to the conventional model engine-type forklift trucks (5.0-ton type) that MHI sells. Not only thatcompared with conventional models, the CO2 emissions from the engine have been reduced to 2/3. It was a surprise to learn that it was so environmentally-conscious; apparently running for a 300-day year, and at eight hours per day, the CO2 emissions can be reduced by 14.6 tons a year.
Development started in December, 2005, and a concept model was exhibited at the LOGIS-TECH TOKYO exhibition held in September, 2006. It seems that there were difficulties creating a program to control the power management of the engine and the motor over the following three years, but eventually it was completed, and the GRENDiA EX Hybrid was brought to life.
Akahane politely explained many things, no matter what the question. "I always liked machines as a child," he said, "and before I knew it, I was aspiring to be an engineer." He apparently pays special attention to the robots whenever he sees a movie depicting the future. What left me with the greatest impression was his parting comment, "I am truly blessed to be able to have worked for so long doing a job that I like."
It will be interesting to see what kind of evolution and roles await these powerful and environmentally-conscious hybrid forklift trucks.