Creating value for our customers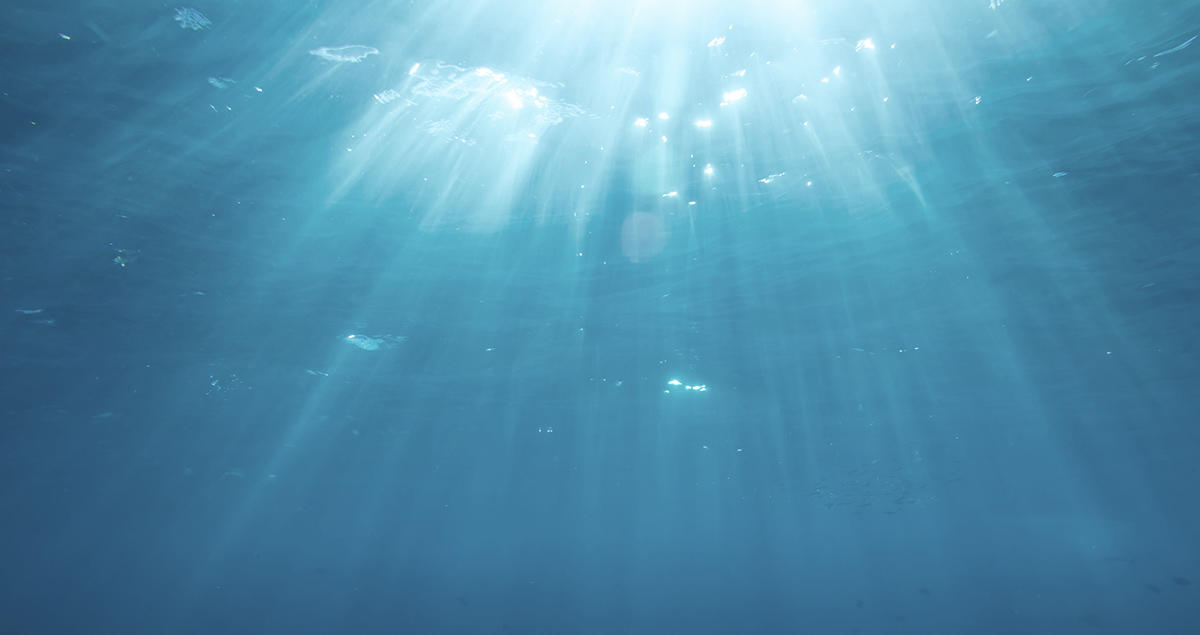 Ecolab's business is providing added value
Headquartered in Minnesota, the US, Ecolab is a global company that provides water, hygiene and energy technologies and services in 170 countries. While technically classified as a chemicals manufacturer, we prefer the term "global provider of water, hygiene and energy technologies and services." That's because we're not simply selling chemicals. Our business model involves delivering value-added services and solutions to our customers.
Our company offers a wide range of goods and services. For example, dishwashing liquids, rubbing alcohol, and neutral hand washing liquids used in the kitchens of hotels and chain restaurants. Detergents for food production plants. Water processing technology. Chemicals for crude oil extraction machines. As such, our customers come from a diverse range of industries, including hospitality, food, manufacturing, power generation, and oil.
Producing superior technology is not the same as innovating
Ecolab is a company that is based on innovation. You might say that Ecolab's history is one of unceasing innovation.
At Ecolab, we have two requirements for something to qualify "innovation." The first is that it's related to our corporate mission—Our Purpose. "Every day, we help make the world cleaner, safer and healthier – protecting people and vital resources." Ecolab employees around the world are working to realize this Purpose, so it's not innovation unless it contributes to this goal.
Another important point is whether or not it brings value to customers. Regardless of how wonderful a technology might be, it's not innovation unless it brings value to the customer.
Next, allow me to discuss our company name. Many people think that the "Eco" in Ecolab stands for "ecology." However, this is not the case. It actually stands for "Economics." At the time of our founding, the company's name was Economics Laboratory.Ecolab was founded in 1923. At the time, maintenance of hotel floors was extremely time-consuming. When tile carpets of the time became dirty, they needed to be removed, washed separately, dried, and then replaced. During this process, the room couldn't be used, so it was also inefficient from a management perspective. That's when our founder, Mr. M.J. Osborn, began selling Absorbit, a detergent for cleaning carpets. With this detergent, carpets could be washed without pulling them up, and it wasn't necessary to hang them out to dry. This product was a major hit. Not only did it make operations easier but it also contributed to a faster room turnover rate and higher sales. This product was Ecolab's first innovation.
In addition to providing products, we also seek to realize objectives such as optimizing operations and labor resources and reducing the amount of water and energy used, thus contributing to overall reduction of costs. That is why we're an Economics Laboratory. Since our establishment, we've sought to innovate in ways that provide value to our customers.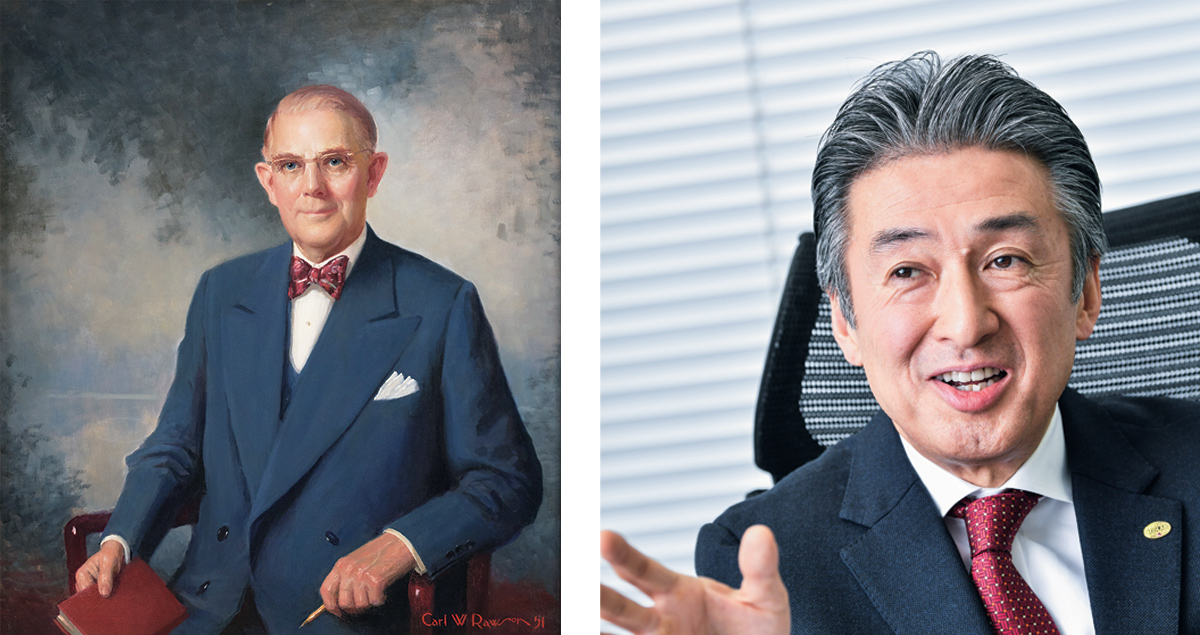 Ecolab is its people. They're the source of our innovation
Our R&D system is designed around creating value for customers. Naturally, we're also performing basic research. For example, we have a team dedicated to polymerized compounds. However, in addition to that, we have teams researching different customer needs and product characteristics such as "sterilization" or "solid detergents." This is a manifestation of our intention to conduct research from a customer needs perspective. At the same time, I'd like to emphasize that at our company, innovation isn't something that only the R&D department does. All of our employees, including those in sales, services, marketing, and manufacturing, have a responsibility to provide innovation to our customers.
At Ecolab, we refer to our employees as "associates." Our business model is to meet with customers, identify their needs, and propose solutions. From the customer's perspective, our associates are Ecolab representatives who look for new ways to innovate. Our associates are Ecolab itself. They're the source of our innovation.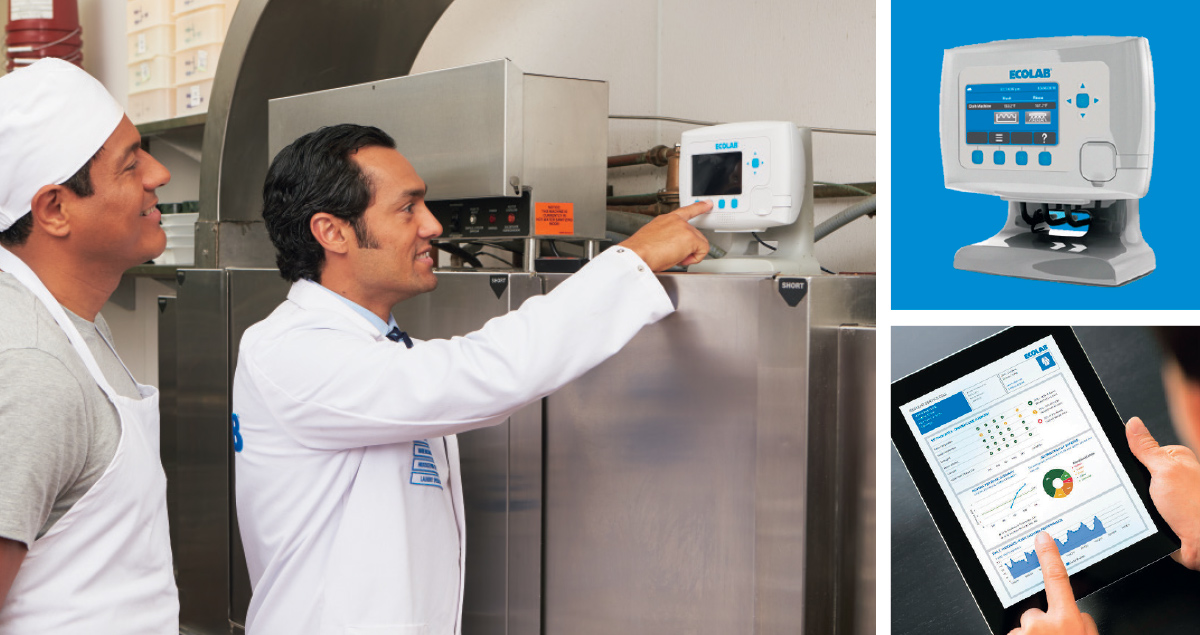 New Program utilizing IoT Smartpower™
This is a program launched in 2017 (January 2019 in Japan) that combines hardware and software. A sensor is attached to the dishwasher for around-the-clock monitoring of detergent levels, water temperatures, and other factors. This "visualization" of the washing process leads to optimal results. Taking into mind the diversity of operators, it also has multi-language options and icons to visually represent the states of operations. Twenty engineers from ten different countries participated in this development project. Market surveys were conducted in 300 food service establishments in 44 cities in 21 countries. Additionally, tests were conducted at 200 customer sites worldwide. This program was commercialized after collecting data from over 20,000 units.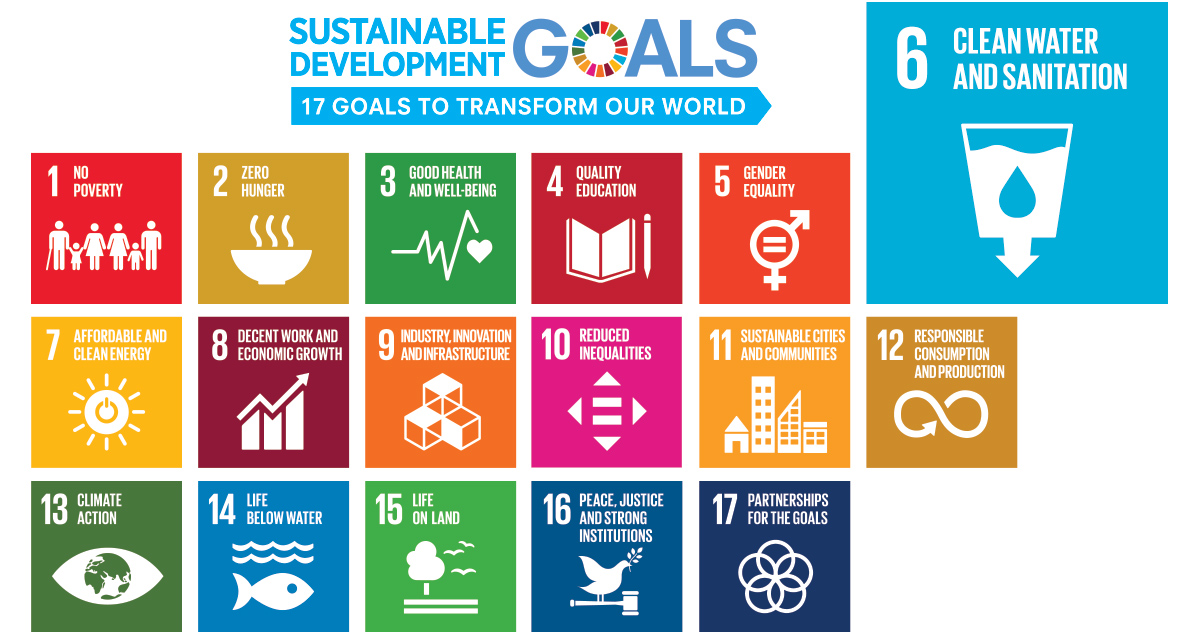 Connecting innovation with SDGs initiatives
Ecolab is carrying out various initiatives toward the realization of the UN's Sustainable Development Goals (SDGs). In particular, they're carrying out a wide range of activities for Goal 6: "Ensure availability and sustainable management of water and sanitation for all," which is highly compatible with Our Purpose. These activities also lead to new technologies and innovations.