A different Davos comes to the same conclusion: The Energy Transition remains key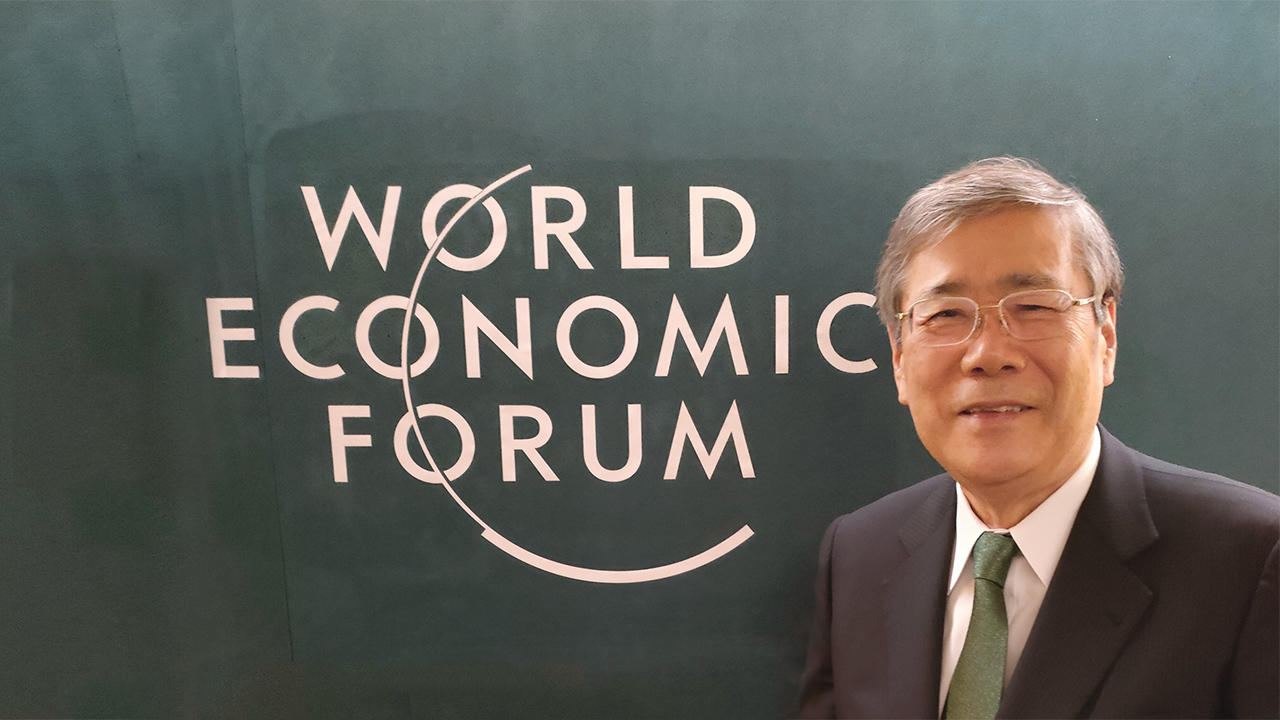 This article was previously published in our newsletter, if you're not already a subscriber, sign up here.
The atmosphere at the May 2022 World Economic Forum's conference was very different this year and not just because a meeting traditionally held in mid-winter was taking place on sunny spring days in the Swiss Alps. There were no Russian delegates and a much-reduced presence from China. Instead, we noticed many more visitors from Africa and the Middle East, two regions rapidly expanding their renewables and green hydrogen capacities. We spotted fewer politicians, more company executives and, encouragingly, more female business leaders, particularly in heavy industries.
The topics of conversation, both in the conference halls and the corridors, were also very different: theoretical discussions on stakeholder management had given way to talk about inflation and tighter financial conditions; about soaring energy prices and disrupted supply chains; about war and possible shortages of food and power.
While everyone we met was happy to be back at the WEF after a gap of more than two years, we felt strongly that Davos had changed: grown more realistic in tone, more practical -- and perhaps even more urgent than before in its desire to solve the ever-growing list of global challenges. This struck us as a welcome development.
Political and regulatory frameworks: rules and incentives will unlock the potential
The one thing that had not changed was the focus on the Energy Transition, in order to reach net zero carbon dioxide emissions worldwide by 2050. In fact, the Ukraine conflict has cruelly exposed Europe's over-reliance on Russian natural gas and given it a new urgency to diversify its energy sources. The European Union is taking that as a cue not only to bring in liquefied natural gas (LNG) from places like Qatar, but also to accelerate investment in carbon-free power sources such as offshore wind, solar and hydrogen. In that sense, rising energy prices, however disruptive in the short term, can spur the development and scaling of new technologies and the adoption of more supportive public policy.
This urgency is not just coming from above. Bottom-up pressure from ESG-focused investors is forcing companies to adopt ever more rapid decarbonization plans. Some are simply – and superficially – tagging the energy sector and 'hard-to-abate' industries as 'uninvestable' or even 'evil'. But more sophisticated financial institutions are working with their investee companies to reduce Scope 1&2 and, increasingly, Scope 3 CO2 emissions that cover their entire value chains.
The technology for this mostly already exists. The money is also available, at least to a considerable extent. What we are still waiting for are comprehensive and well-coordinated political and regulatory frameworks: rules and incentives that will unlock the vast sums required to finance the Energy Transition.
Continuing momentum from COP26, requiring more diverse technologies
A second risk, of course, is that the current geopolitical conflicts drag on, or get worse, while high levels of inflation become embedded in the economic system. That could create enough uncertainty to delay progress toward our net zero ambitions – and is something we urge politicians and central bankers to forestall. For the present, however, we see continuing momentum from COP26 in Glasgow last year and we look forward to engaging further at the upcoming COP27 conference at Sharm el-Sheikh this November.
In this context, we believe MHI Group has an important role to play as a technology solutions provider to industry and government. We can start by helping our customers to improve their energy efficiency and eliminate waste. We are the world market leader in CO2 capture systems, a proven technology. And we are developing and building comprehensive ecosystems not only for carbon sequestration, transport and use (or storage), but also for hydrogen – everything from co-firing hydrogen and natural gas in our world-leading turbines to using this clean and abundant gas as a storage vector to complement renewables. Separately, our long experience in building and servicing nuclear reactors allows us to offer countries a source of efficient and stable baseload power for their energy mix.
We can also assist in the badly needed rebuilding of disrupted supply chains, a process already underway and likely to be substantially completed in the next two to three years. As companies re-shore to reduce future vulnerability to geopolitical upheavals, they will need more local energy supplies. Something like our Eblox system, which combines solar power, batteries and a back-up engine to provide stable, off-grid power could be an ideal solution for individual factories and remote locations.
Committing to Net Zero by 2040 as a long-term partner
Critically, we are leading by example. We have committed to decarbonizing our own operations and those of our suppliers and customers (embracing Scope 3 emissions as well as Scope 1&2) by 2040 – a full decade ahead of most others. As a technology provider, we need to be a front runner when it comes to the Energy Transition and we can tell you that once MHI makes a promise, it does not break its word. Our "Mission Net Zero" declaration has been well received by customers, giving them the assurance that we are a committed, long-term partner for their own decarbonization efforts.
Just imagine if the world succeeds in its global net zero mission by 2050! Not only will that help make our very planet more sustainable. It will also, through the unprecedented cooperation required, have helped us evolve a milder, smarter form of capitalism – a "human capitalism" based on consensus and burden sharing, that works for all stakeholders. This is a worthy goal.