5 ways ships can decarbonize and boost the CO₂ value chain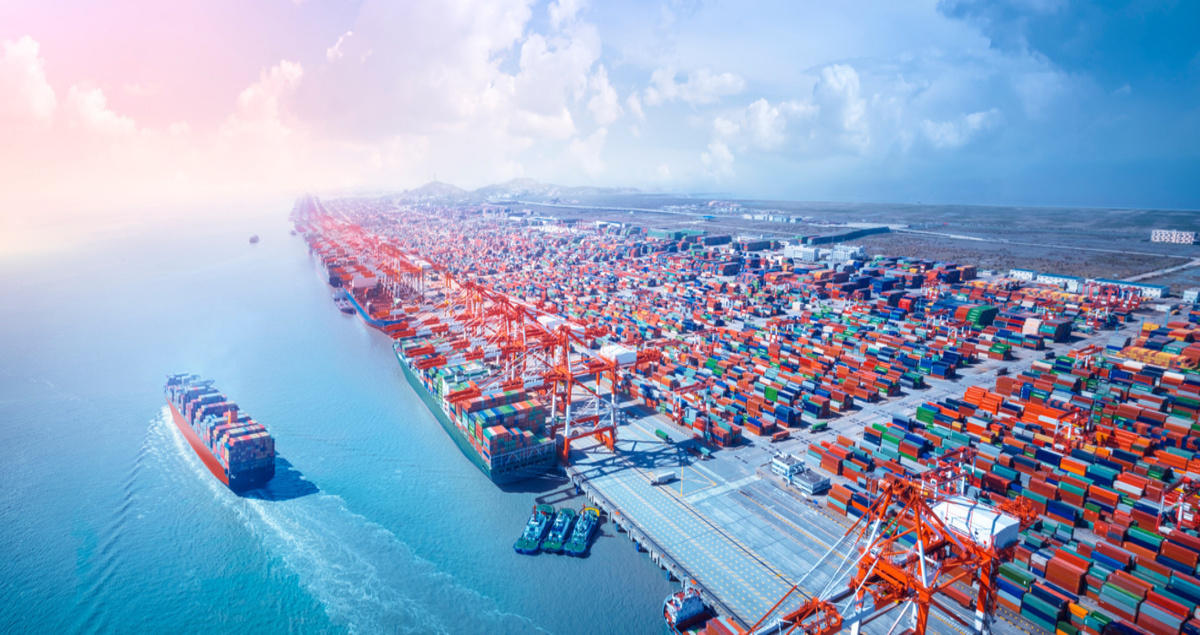 Three percent.
It doesn't sound much, but it means the share of global CO₂ emissions from international shipping is now back above pre-pandemic levels. What's more, some industry experts worry that shipping emissions could continue to rise in the coming years, at a time when many other sectors will be reducing their CO₂ footprints.
Against this backdrop, it's clearly in the industry's best interests to take proactive steps to fully decarbonize its operations. But it is struggling. Analysts SSY estimate that three-quarters of bulk carriers and tankers won't comply with the next tranche of efficiency and carbon-intensity regulations from the International Maritime Organization without making remedial changes. And even if they comply, the improvements would not be significant for the sector's carbon footprint as a whole.
Yet shipping has a major role to play in the race to net zero, not least in a future CO₂ value chain, taking carbon dioxide from where it's captured to where it's needed.
Which technologies can help shipping overcome these challenges, so it can play its part in the race to net zero?
1. Alternative propulsion
One obvious route to decarbonizing shipping is the use of battery-electric propulsion. There are several examples of battery-powered vessels all over the world, from ferries to cruise ships.
But until batteries become significantly more powerful, the range of electric ships will be limited to shorter distances and coastal routes.
Solid oxide fuel cells are another promising candidate for CO₂-free propulsion. They have the advantage of providing more efficient fuel use than typical ship engines and can use renewably made fuels such as ammonia or hydrogen.
2. Carbon-free fuels
To achieve zero emissions, shipping needs to get beyond window dressing and commit to carbon-free fuels. These include hydrogen, ammonia and sustainable biofuels such as synthetic methanol.
While hydrogen and ammonia burn without CO₂ emissions, some sustainable biofuels do. However, they can equally contribute to the reduction of CO₂ emissions as a whole, because the resulting emissions can be filtered out using onboard CO₂ capture technology.
The challenge with alternative fuels is that they are still far more expensive than traditional marine bunker fuel oil. On top of that, there are not enough supplies to meet demand.
In the interim, switching from conventional marine oil to liquefied natural gas (LNG) can be a transitional step toward significantly lower emissions.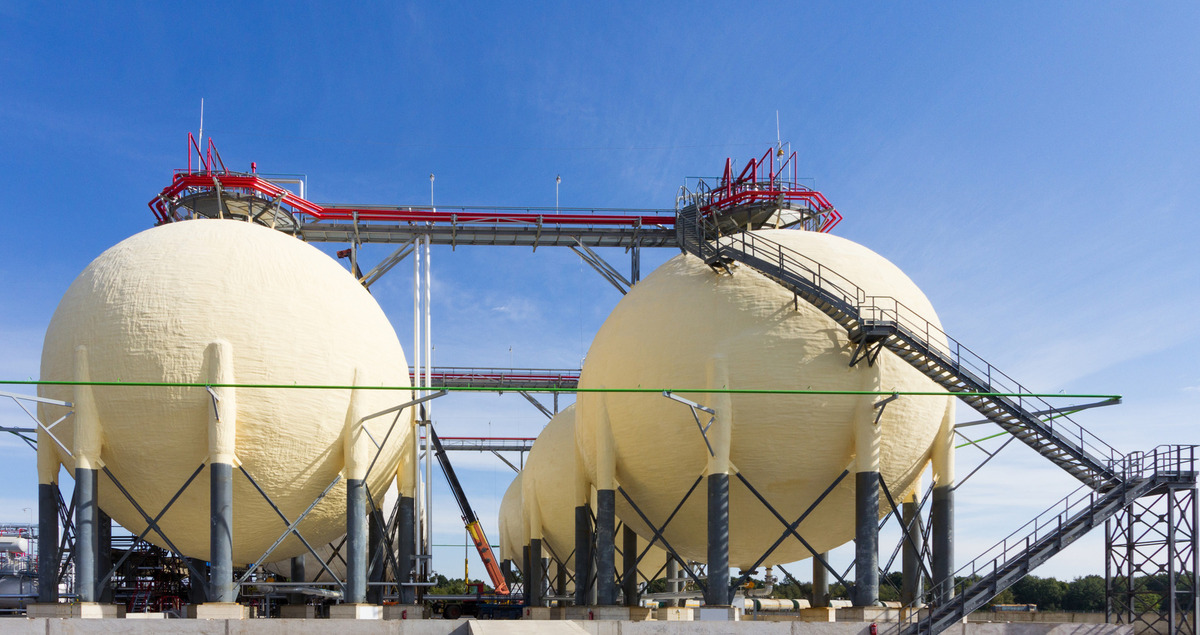 3. Onboard CO₂ capture
CO₂ capture is one of the lifelines of decarbonization, especially for heavy industries and transportation — including shipping. To date, most commercial CO₂ sequestration projects are large-scale and are being used at power plants or industrial sites.
However, onboard CO₂ capture technology is just around the corner. MHI is currently trialling a miniaturized device for sequestering CO₂ from the exhaust gases on a seagoing ship.
These smaller systems capture CO₂ from a vessel's exhaust gases, liquefy it and store it until the ship arrives in port. There, the carbon dioxide can either be sent for permanent storage or used in a variety of industrial applications that need CO₂ as a feedstock. This includes the production of fuel, chemicals and building materials, and it also has uses in the food and beverages sector.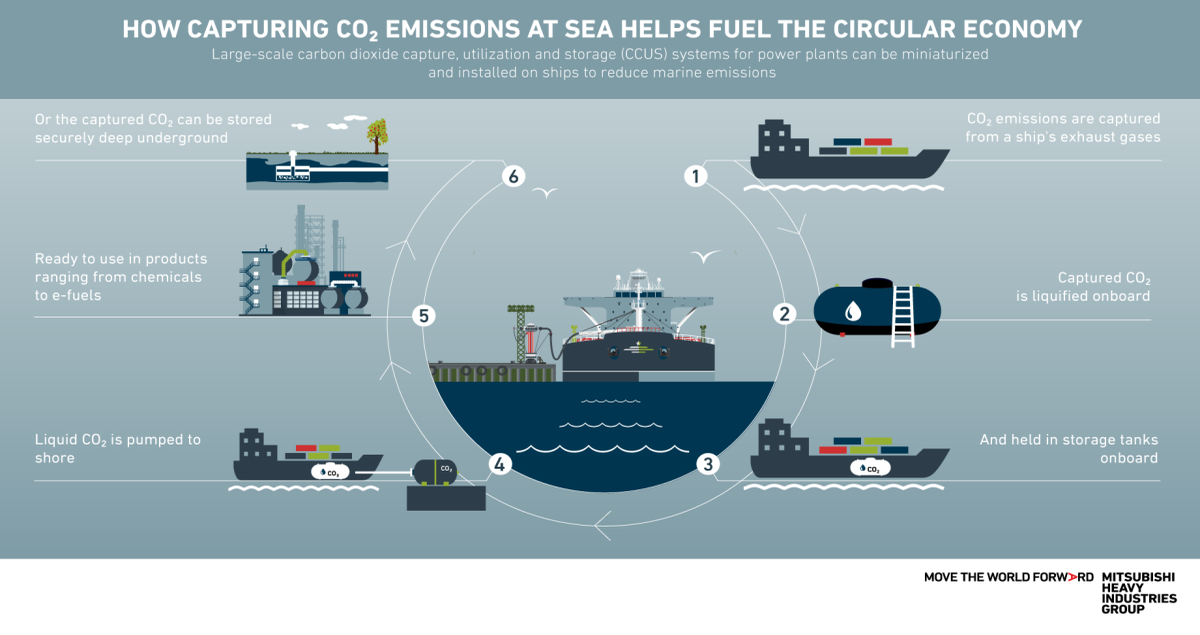 4. Shipping as a "green link"
Looking at the bigger picture, shipping also needs to take into account its growing role as a central link in the CO₂ value chain.
For example, Mitsubishi Heavy Industries (MHI) Group has announced a joint development project with NYK Line to develop a large-scale liquefied CO₂ carrier that will transport sequestered carbon dioxide across the world's oceans. In addition, a carrier for both ammonia and liquefied CO₂ is under development with Mitsui O.S.K. Lines.
What's more, shipping will also be a key pathway for new carbon-neutral fuels — as it has been for LNG latterly. One recent example is an ammonia carrier fueled by ammonia. Ammonia is already widely used in the fertilizer industry, and demand is set to increase as it can be used as a replacement for fossil fuels in thermal power plants and as a transport medium for hydrogen.
5. Decarbonized shipping routes
A final stepping stone for shipping's transition to becoming a low-carbon industry and enabler of decarbonization is the supporting infrastructure and distribution network.
According to consultancy firm McKinsey, one solution is the establishment of "green corridors" — trade routes between major ports that support emission-free shipping and trading by creating an enabling ecosystem. Ideally, these corridors would include all elements of the value chain.
This would reach from fuel and cargo offtakers to storage providers and regulators, who will be critical to setting out the legal framework for the use of such corridors. The idea is that this would encourage ship operators, shipbuilders and engine makers to invest in zero-emission shipping.